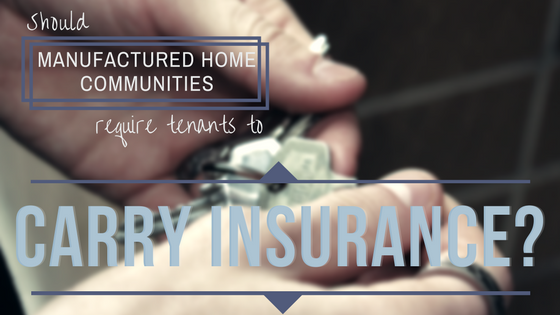 Nowadays, many manufactured homeowners choose to place their homes in land-lease communities. In exchange for a reasonable monthly rent, a manufactured home community resident can have access to common utilities like water, electricity, natural gas and sewer along with different amenities, such as cable, Internet, playgrounds, pools and so on.
In addition to a series of terms and conditions that are typically stipulated in lease agreements, a community owner or operator can include a provision that requires the residents who rent land in manufactured home communities to carry homeowners insurance.
Now, let's take a look at the top benefits manufactured home communities can get by including an "insurance" clause in their leases.


It Mitigates the Risk of Higher Premiums
Manufactured homeowners insurance provides an extra layer of protection for community owners and operators.
As an example, if a visitor gets injured while on the property of one of your renters, he or she will most probably file a personal injury claim or lawsuit against your tenant and not against the community.
If the tenant has manufactured homeowners insurance, the liability portion of his or her policy will cover medical payments, the amount of compensation awarded and the legal costs associated. The manufactured homeowners insurance we make available at Triad Financial Services, for instance, includes a base limit of $50,000 in liability coverage, with the option to increase it up to $300,000.
But what if the renter doesn't carry insurance? In that case, the visitor who has suffered the injury might file a claim against the community. If your insurer agrees to pay, higher premiums might follow.


It Covers Damage to the Home Itself, Additional Structures and Personal Property
Covering perils like fire, explosion, thunderstorm, hailstorm, lightning, building collapse, theft, vandalism and flood (particularly in flood zones A and V), a manufactured homeowners insurance plan can prevent costly claims from being filed against your community.
In a nutshell, manufactured homeowners insurance will pay for the repair and/or replacement of the home itself and other structures along with personal property that has been damaged, destroyed, lost or stolen, according to pre-established limits.
Some manufactured home insurance programs also include "loss of use" coverage, providing compensation for alternative living arrangements in the event that a home becomes uninhabitable due to damage.
Additionally, if one of your tenants accidentally causes his or her neighbors to suffer a loss, through property damage or bodily injury, his or her insurer will pay for damages and/or injuries, up to the face amount of the policy.


It Promotes a Good Relationship with Tenants
Though it might not seem important, building a good relationship with your residents is a valuable component of successful community management.
Given that manufactured homeowners insurance can prevent arguments over liability issues between community operators and renters, it can help manufactured home communities maintain a positive relationship with their residents, even when a major loss occurs.


It Gives You Peace of Mind
The thought that you won't have to deal with your residents' loss should a disaster strike can be very comforting. What's more, requiring your residents to keep their manufactured homeowners insurance policies current is the best way to avoid legal liability being placed on the community. For continued peace of mind, make sure that all of your residents renew their insurance policies before they expire.


To learn more about the insurance coverage options available for manufactured homes and manufactured home communities, please visit our website, call our insurance experts at 401-524-7641 or drop us a line at insurance1@triadfs.com.