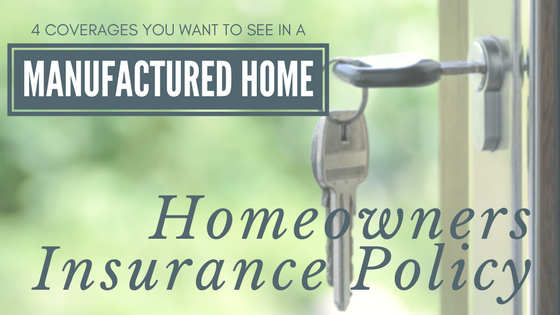 If you already own a manufactured home, or you're thinking about buying one, the easiest way to protect the roof over your head is to get a manufactured home homeowners insurance policy.
Manufactured homeowners insurance provides a specialized form of coverage that can vary greatly by company and product. It is for this reason that you need to know exactly what perils are typically covered by a manufactured homeowners insurance policy before you purchase one.
The 4 most important types of coverage, as defined by insurance companies, are:
The Home's Structure and Additions
A manufactured home homeowners insurance policy should provide comprehensive coverage similar to standard homeowners insurance for site-built construction. For instance, your homeowners' insurance policy should protect the house itself and additions like garages, decks, patios, sheds, etc., against different perils, ranging from theft, vandalism, fire, hail storm, thunderstorm, and lightning to flood, explosion, and building collapse. Additionally, the standard homeowners' insurance policies include "loss of use" coverage, which pays for additional living expenses when a home becomes unfit to live in due to a covered peril.
While the coverage for older manufactured homes is based on the Actual Cash Value, insurance for new construction and recently built, pre-owned properties are calculated using the Replacement Cost formula and should cover a minimum of 80% of the replacement value. In both situations, the amount of coverage depends on the limit specified on the policy. To ensure that manufactured homeowners have real options when it comes to finding the best insurance policies for their needs, we've teamed up with multiple carriers that provide complete coverage for manufactured homeowners.
Personal Property
A manufactured home homeowners insurance policy includes protection for the contents of your home and personal effects, such as appliances, furniture, and clothing.
But personal property coverage also applies to belongings outside your home. If an item covered by your policy is damaged, destroyed, or stolen, for instance, personal property coverage can help you replace it. Typically, the limit is 50% of the dwelling amount, but our carriers can provide higher limits upon request.
An important thing you need to know is that some insurers provide different manufactured home homeowners insurance policies that have lower premiums. While it may be tempting to opt for a lower premium, it's important to know that most of these policies only cover certain causes of loss. Thus, before signing on the dotted line, make sure that you check with your insurance agent exactly what coverages are excluded from your policy.
Liability Protection
Manufactured home homeowners insurance policies usually include personal liability coverage, which protects homeowners and their families from being held liable for bodily injury and damage caused to other people's property, up to the coverage limit. For example, if a guest is injured by a falling tree branch on your property, your insurer will pay damages and cover any legal defense fees associated, provided you're found liable. The manufactured home homeowners insurance policies that we make available include a liability protection base limit of $50,000, which can be extended up to $300,000.
Medical Payments
This type of coverage is designed to pay for medical expenses to other people accidentally injured while on your property. Using the same example mentioned above, your insurer will reimburse the basic medical expenses for your guest, up to the face value of the policy. This "no-fault" coverage is paid to the injured party regardless of fault. Having insurance that covers medical expenses helps to prevent larger claims and even costly litigation. However, this type of insurance doesn't cover injuries to you or members of your household. If you slip and fall on your steps, for instance, the insurer won't reimburse you for the medical expenses related to the injury.
If you're looking for a manufactured home homeowners insurance policy that can give you the peace of mind you deserve, look no further. Not only does Triad Financial Services offer comprehensive coverage options; we also make it quick and easy to get expert advice along with a custom premium estimate for your property. You can reach us at 1-800-522-2013 x1609 to find out more about our manufactured home homeowners insurance plans and enjoy the personal attention you deserve!
*Content has been updated 6/15/21 since its original posting.