Investments in manufactured home communities for rental income inevitably come with questions, concerns and risks. As a manufactured home community owner or operator, you can be held personally liable for numerous unfortunate and unforeseen events, ranging from slips and falls to dog bites and property damage.
Whether you rent out manufactured homes or just land, assessing the particular sector of manufactured home insurance in conjunction with your legal responsibilities and duties is critical to get comprehensive insurance coverage.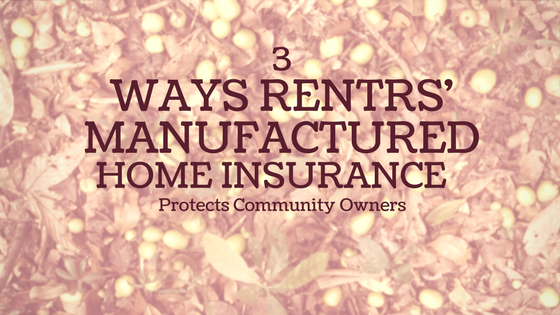 Manufactured home renters insurance is one of the few insurance products specifically designed for manufactured home communities. Though you may think this type of insurance is intended only for the renters living in manufactured home communities, it actually delivers several substantial benefits to the community owners as well.
Below are just three ways this insurance product can protect the owners or operators of these communities.
It Protects Your Investment
There are many things to worry about when renting out manufactured homes to tenants. However, manufactured home renters insurance can give you peace of mind that your homes, their contents and the personal belongings of your renters are protected against a wide range of perils covered by the policy. For example, our manufactured home community rentals insurance provides coverage for up to $100,000 for the accidental damage to the home itself and up to $25,000 for the personal property of tenants.
But what about the residents who own their homes and rent just the lot? Should you require them to carry insurance? The answer is, obviously, yes. Manufactured home owner insurance policies can give residents the money they need in order to get repairs done to their homes as well as additional structures like patios and garages, and replace the goods damaged or destroyed due to insured perils.
It Includes Additional Coverage
Unlike regular renters insurance, manufactured home renters insurance also includes coverage for guest injuries, damages and losses caused by animals. Opting for an insurance policy that covers pet-related claims is a wise decision for any pet-friendly community.
Moreover, manufactured home renters insurance covers potential personal injury claims. For instance, if a guest, volunteer or contractor sustains injuries while on the rented property of a resident, this insurance product will protect both the renter and the community owner against losses—including the medical costs associated—resulting from the claim.
Last, but not least, manufactured home renters insurance provides compensation for alternative living arrangements in the event a manufactured home is rendered uninhabitable due to damage.
It Provides Great Flexibility
Not only does manufactured home renters insurance provide protection for tenants and community owners or operators against a wide range of perils; it does that in exchange for a very reasonable annual premium of just $156. What's more, the residents are the ones who pay the premium, as part of their monthly rent.
These are just some of the benefits of taking out manufactured home renters insurance on your community.
Though there are many unforeseen circumstances that could unexpectedly arise in the course of renting out a manufactured home to a tenant, many community owners overlook the importance of obtaining comprehensive insurance coverage. Our advice? Manufactured home renters insurance paired with other relevant insurance programs can help community owners fully protect their investments.
Having specialized knowledge and extensive experience in the field of manufactured home insurance, Triad Financial Services understands all the risks faced by manufactured home community owners. As a result, we're able to offer you specialty insurance products that address all the areas of your investment. For a free analysis and coverage review, please call our insurance specialists today at 844-375-7224.