Manufactured homes represent a cost-effective alternative to conventional single-family dwelling as well as a viable solution to the affordable housing crisis. But, unfortunately, many people still fail to take advantage of the opportunities provided by the manufactured housing industry. That's partly due to a series of concerns and misconceptions about these types of homes.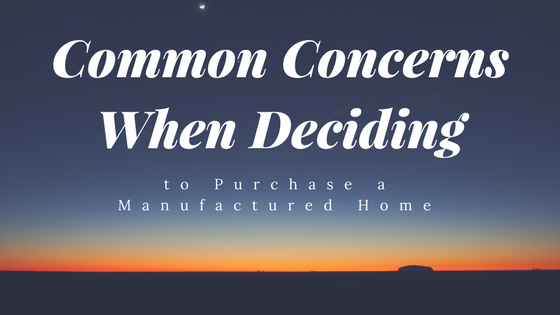 Since each year brings different changes to the housing market, there will always be a few reasons to fret over the purchase of a factory-built home. In this post, we'll go through some of the concerns that are at the top of the list for manufactured home buyers.
Financing and Refinancing Options
Nowadays, manufactured home financing is quite hard to come by, the main reason being that only a handful of financial institutions offer such loans. In addition, the recent economic downturn has forced many lenders to develop and implement stricter lending criteria.
But, despite increasingly strict underwriting guidelines, plenty of home buyers still qualify for manufactured home loan programs. To find out whether you qualify for a manufactured home loan or for refinancing an existing loan, we invite you to talk to one of our professionals.
On a side note, if the factory-built home you want to purchase is permanently installed on land you already own or plan to buy, and titled as real property, traditional financing can be arranged. The benefits of getting a manufactured home loan with land are manifold, ranging from a longer loan term and lower interest rate to significant tax deductions.
Site Preparation
According to MHI, a buyer is responsible for site preparation if he or she owns the land on which the manufactured home will be placed. When the home is installed in a planned subdivision or in a land-lease community, the developer or the landlord is responsible for preparing the site.
Just as with site-built construction, site preparation should be carefully considered prior to installing a manufactured home. Unstable ground, inability to properly grade the site for drainage and inadequate foundation for particular terrain conditions can cause various problems down the road. All these should be correctly addressed before the delivery of the home.
In a recent manual, HUD indicates a series of measures that can be implemented to avoid most of the problems that may arise before, during and after the installation of manufactured homes.
Health and Safety
Many people still confuse today's manufactured homes with the mobile homes of 20 or 30 years ago. Unsurprisingly, they express unfounded concerns about construction quality, structural integrity, performance, fire safety and installation issues.
Currently, all manufactured homes are built in accordance with HUD's Manufactured Home Construction and Safety Standards and inspected in plants by third-party agencies approved by HUD.
Also, the installation of each home and connection to utilities are inspected by local building officials, who are responsible for addressing any problems that may arise during and immediately after home setup.
One study published by the CDC has shown that the most common problems found in manufactured homes are comparable to those in site-built structures. Furthermore, technology has come to the rescue, and manufacturers now offer factory-built homes that meet the latest fire and wind-resistance requirements set forth by HUD.
Zoning Restrictions
Since the manufactured housing quality, size and design have evolved considerably over time, many states have reported an easing of their zoning requirements. However, zoning ordinances still determine which uses of the land are permitted, the size and architecture of homes, distances from street and other property lines, etc.
When looking for a factory-built home, finding a lender who is qualified and experienced in this industry niche is very important. Not only can Triad Financial Services supply the expertise needed and assist you with your financing needs; we also offer a full array of loan products that can be used to purchase or refinance a new or a pre-owned manufactured home.