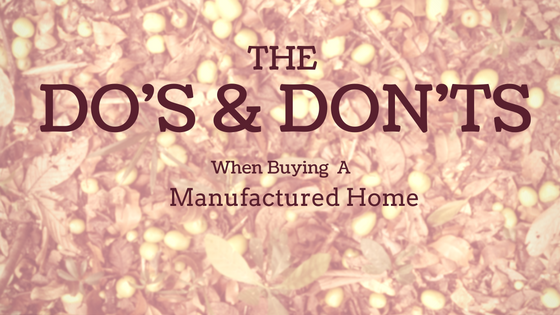 When buying a home, it's perfectly normal to feel overwhelmed. After all, the path to homeownership is littered with many obstacles. Since buying a manufactured home isn't something to be taken lightly, here are a few do's and don'ts from our experts.
Manufactured Home Buying Do's
Do choose the right home for your family.
The first step toward buying a manufactured home is to figure out what you are looking for in terms of size, floor plan and features. Nowadays, manufactured homes are available in a wide range of architectural styles and can include different amenities, such as spacious floor plans, walk-in closets, fireplaces, Jacuzzi tubs and energy-efficient features. Once you have established your needs and wants, selecting the right home becomes a lot easier.
Do evaluate all the financing options.
In order to make a financially sound decision, you need to weigh out all the financing options available to you. Although manufactured homes can be financed either with chattel or mortgage loans, conventional manufactured home lenders, credit unions and community banks offer different financing programs you may qualify for. To benefit from a streamlined lending process and also get adequate insurance coverage, a good idea would be to approach a reputable institution like Triad Financial Services, which operates as both a lender and an insurer.
Do consider home location.
HUD advises home buyers to take into account all the restrictive covenants and zoning requirements before renting or buying a lot for their manufactured homes. In addition, buyers are responsible for preparing the site (except for when the home is sited in a land-lease community), obtaining the necessary permits and arranging for the connection of the home to utilities.
Manufactured Home Buying Don'ts
Don't overlook warranties.
When buying a new manufactured home, you should receive a homeowner's manual together with manufacturer, retailer, installer and appliance warranties, where applicable. In addition to reading all the warranties to figure out what is and isn't covered, make sure you check what things can void your warranties. Improper site preparation and inadequate maintenance, for instance, can void the warranty, as can moving the home.
Don't do anything that could negatively impact your credit situation.
Making any significant purchases or taking on more debt while waiting to close on a manufactured home are two mistakes that could derail the entire home-buying process. Before making any financial decision, take the time to review the things that might prevent you from purchasing your dream home.
In addition to all these, getting approved for a manufactured home loan can help you avoid falling in love with a home you can't afford. To find out if you qualify for such a loan and how much you can comfortably borrow on your income, feel free to use our online form or give us a call at (800)-522-2013.