3 Reasons Why Real Estate Agents Enjoy Working With a Specialized Manufactured Home Lender
May 9, 2017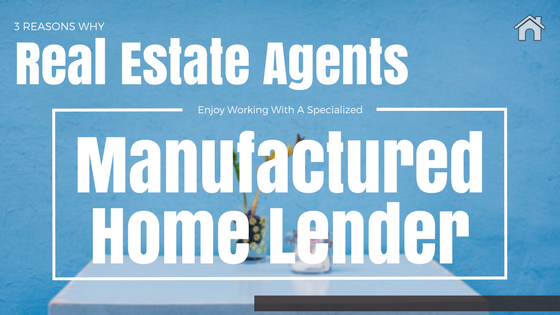 In addition to the FHFA's Duty to Serve provisions that support certain segments of the lending industry underserved by mainstream financial institutions, new efforts have been recently made toward eliminating the regulatory burdens that limit the availability of financing alternatives for manufactured homes, according to the MHI.
As an increasing number of organizations get involved in various initiatives that facilitate a secondary market for manufactured home loans, the role of specialized manufactured home lenders has become more important than before.But here, we're not just talking about extending the availability of affordable credit alternatives to more consumers; we're also talking about helping financial institutions, dealers and realtors better serve their customers.Over the past few years, working with a specialized manufactured home lender has become a lucrative strategy for real estate professionals. Below are three reasons why many realtors decide to partner with financial institutions specializing in this industry sector.
Lower Interest Rates and Fees
The interest rates and fees associated with manufactured home loans can vary greatly from one lender to another. Since a lending institution specializing in manufactured home financing typically provides an extensive suite of lending solutions, it can offer lower interest rates and closing costs compared to other lenders.

Saving borrowers thousands of dollars over the life of their loans, specialized manufactured home lending programs have turned the manufactured housing sector into a more affordable and therefore more attractive alternative for a higher number of potential buyers. Recent industry data confirms that loan affordability is one of the reasons why people are choosing manufactured homes.
Flexibility
Besides offering lower interest rates and fees, a financial institution specializing in manufactured home financing can provide more personalized services.

Not only does such a company make available a wide variety of financing opportunities that meet the unique needs of specific categories of borrowers; it also works closely with real estate agents, small banks, credit unions and dealers in order to help them offer their customers more advantageous financing solutions.

Additionally, a specialized manufactured home lender can approve certain borrowers rejected by mainstream banks. That's because the eligibility criteria of manufactured home lenders differ considerably from the "cookie-cutter" requirements of big banks. What's more, most manufactured home financing companies continuously monitor and adjust their guidelines to ensure they reflect market realities.

Some specialized manufactured home lenders, such as Triad Financial Services, also provide real estate listing services. Using such a service, customers have access to a broader array of housing options and deals, while real estate professionals are able to attract a higher number of potential home buyers and achieve their financial goals.
Simplicity
Specialized manufactured home lending requires specialized industry expertise. Providing effective end-to-end management of loan transactions along with expert advice and support on all the aspects of manufactured home financing, a dedicated manufactured home lender can streamline the entire loan process, from loan application to "after-loan" service.

Another major benefit of using a specialized lender is that he or she can recommend the right loan program for each individual situation. For a home buyer, the difference between getting a good loan deal and a bad one is a life-changing "detail".
If you're looking for a specialized manufactured home lender who provides a full range of manufactured home lending products, services and advanced technology solutions, please get in touch with our experienced professionals today by calling (800)-522-2013 or emailing info@triadfs.com.