Many affordable-lending opponents claim that the entire manufactured housing industry is in a free fall, discouraging investments in this sector. At the risk of starting out a contradictory debate, we've decided to write this article and demonstrate the exact opposite is true: manufactured homes serve more and more housing needs in both rural and metropolitan areas.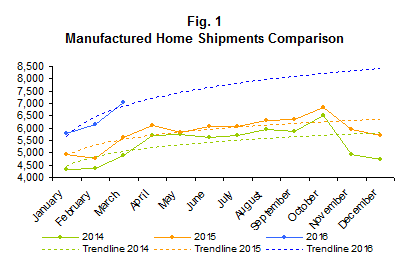 Using the MHI's "Manufactured Home Monthly Shipments" report to represent manufactured housing shipments between January, 2014, and March, 2016, we can see a solid uptrend, which indicates a moderate sustained strengthening of the manufactured housing market (fig. 1).
Moreover, industry watchers predict that higher numbers of low- and moderate-income home buyers will choose manufactured homes as an affordable alternative to more expensive site-built dwellings, especially for the two reasons presented below.
Manufactured Home Loan Affordability
New efforts have been recently made to offer consumers more affordable manufactured home financing options from a higher number of sources. With the new Duty to Serve proposed rule expected to stimulate investments in the secondary market for manufactured housing loans, the MHI, FHFA, CFED and other organizations have started to focus on additional aspects, which will further improve loan affordability, such as:
the new HOEPA rule changes that, according to a recent HMDA report, have made financing for smaller balance loans, including manufactured home loans, more difficult;
risk mitigation in chattel lending;
improvements in loan monitoring and lending portfolio performance.
The HMDA report has made a compelling case for a series of adjustments that will soon be implemented to facilitate consumer access to more affordable manufactured home loan products and services. New financing opportunities that promise substantial benefit to manufactured home buyers will encourage the consumers hurt by the current housing crisis, unreasonable rents and unaffordable conventional mortgages to choose these homes over site-built construction. This will produce ongoing demand across the manufactured home construction and lending industries.
Quality of Construction
Over the past 40 years, HUD has regulated the construction and installation of manufactured homes, correlating its Manufactured Home Construction and Safety Standards with the latest state and local regulations. As an example, where the state and local building codes indicate certain grades of lumber to be used for particular types of homes, the HUD Code allows the use of other materials that facilitate the manufacturing process of factory-built homes, as long as the chosen materials have similar characteristics to the materials specified in the state and local building codes, according to MHI.
To ensure continuous safety improvements, the installation of manufactured homes is also subject to changing rules and regulations, which vary from one state to another according to location, climate, soil type, home design and even lender requirements. Besides the fact that all the manufactured homes are currently being built and installed or retrofitted in full compliance with the latest building codes, newly built homes come with warranties that guarantee the quality of materials and workmanship.
As well, HUD has just announced that it will review all the installation manuals for manufactured homes. Should there be any issues that need to be clarified, HUD will require manufacturers to make the necessary adjustments in order to eliminate confusion. Also, HUD will implement manufactured home installation programs in the states lacking installation standards.
In addition, the U.S. Department of Energy (DOE) has released a report that presents the latest advances in manufactured homes, which contribute to significant reduction in the energy used for space cooling and heating. Based on a side-by-side comparison of three unoccupied lab manufactured homes (house A built according to the HUD code; house B manufactured to meet typical Energy Star ratings; house C conforming to the HUD code and DOE's ZERH criteria), with identical floor plans, construction and orientation, experts concluded that manufactured homes built in compliance with the HUD code and ZERH specifications will save just as much energy as site-built houses enhanced with comparable energy-efficient features.
If you're interested in becoming part of the solution to the affordable housing crisis, we invite you to contact our experienced professionals at Triad Financial Services, Inc. Together with other reputable institutions, including the MHI, CFPB, CFED, FHFA and government-sponsored enterprises, we're committed to fostering a lucrative secondary market for manufactured home loans for all those involved, including investors and consumers.