The manufactured home loan process can be very complex. But with a good loan origination and servicing company, you can turn it into a great experience for everyone and even close on your manufactured home faster. Unfortunately, finding a quality loan servicing company isn't easy. One way to be certain that you're about to shake hands with the right "partner" is to ask the following seven questions.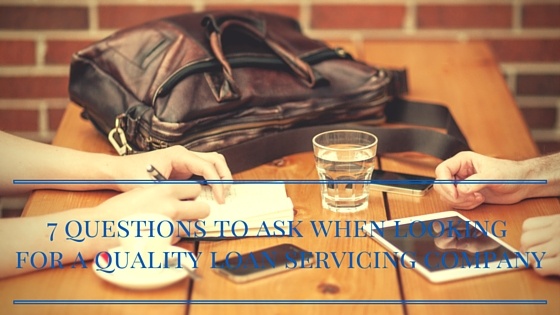 How much experience do you have in the manufactured home lending industry?

A reputable, quality loan servicing company with plenty of experience in the secondary market for manufactured home loans isn't only aware of the manufactured home financing options available today; it's also able to direct you toward the right loan products for your organization.

Do you work with other companies?

While dealing with only one company often results in a more streamlined process, hiring a quality loan servicing company that has partnered with other reputable organizations is key to getting a healthy mix of investment products and services for your institution. To offer our customers one of the most profitable loan portfolios available in today's manufactured housing finance market, Triad Financial Services has developed strategic alliances and solid relationships with more than 125 lending partners, which are well-capitalized, independent companies with strong investment profiles and disciplined approaches to capital allocation.

What do you know about my industry niche?

When searching for a loan origination and servicing company, consider it's familiarity with your market segment and potential customers or members. As an example, handling the tasks associated with a bank's loan portfolio is completely different from managing multiple loan products for a credit union. Therefore, only a quality loan servicing company that really knows your niche can help you achieve your financial goals.
What types of loans do you service?

Knowing exactly what loan products and services a manufactured home financing company provides can help you determine if it's the right fit for your organization. At Triad Financial Services, for instance, we provide and service chattel loans, manufactured home loans with land and Land Plus loan products for new and used, single and multi-section manufactured homes. In addition, our services include:
- managing the relationship with your borrowers;
- collecting monthly payments;
- monitoring loan repayments;
- dealing with late payments;
- handling tax and insurance, where applicable;
- terminating defaulted loans and beginning the collection procedures;
- preparing and issuing reports.
Why do we provide all these services? Simply because we believe that a good manufactured home lender should offer more than just loans.
Are you licensed?

Why is it important to partner with a licensed loan origination and servicing company? In short, being licensed signifies that the company is safe and trustworthy to work with. Teaming up with such a company indirectly means that you'll get the information, advice and tools you need in order to make the best financial decisions for your institution. Triad Financial Services is licensed and registered in all the states we currently serve.
How do you monitor and manage regulatory changes?

A quality loan servicing company should have adequate monitoring procedures in place in order to keep up with new rules and changes to the existing regulations. Proper monitoring can help you avoid violations and keep your institution off the radar of regulatory agencies. As soon as new or amended rules are issued, the loan servicing company should make modifications as appropriate.
What does the word "partnership" mean to you?

A partnership philosophy should be all about developing strong relationships with the customers. At Triad Financial Services, listening to and addressing the challenges our customers encounter in today's manufactured home lending environment is part of the relationship we build with each one of them. This way, any institution that chooses our services feels that it has finally found a manufactured home lending partner it can count on.
In this industry, one conclusion we've reached is that our success depends on delivering what our customers want. If you're looking for a reliable lending partner ready to provide high-yield, high-performance manufactured home loan products and services, cutting-edge technology and peace of mind, we invite you to get in touch with our experts today by calling our toll-free number (800)-522-2013 x1634 or email us at investors@triadfs.com.