According to CCIM Institute, manufactured home communities deliver excellent investment opportunities. One thing we would like to add is that manufactured home community operators need specialty property insurance in order to protect their investments.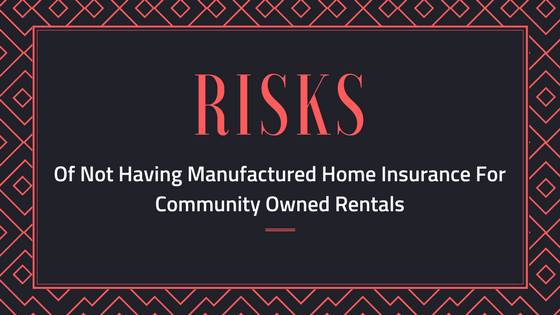 To help manufactured home community owners and their residents protect themselves against financial loss potentially resulting from a variety of perils, we have developed a Manufactured Home Community Rentals Insurance Program. In addition to addressing specific exposures and risks in manufactured home communities, a program like this can be included in lease agreements and the premium is rolled into the resident's monthly rent payment. This program is meant to be paid for entirely by the tenants, although coverage extends to the community owner.
But why should you require your residents to maintain renters insurance? Maybe because this type of insurance benefits you just as much as your tenants. To help you better understand the importance of manufactured home community renters insurance, let's go through some of the risks of not requiring your tenants to maintain adequate insurance coverage.
You may be exposed to financial liability.
In the event of accidental damage or injury caused by a tenant who doesn't carry renters insurance, you might have to compensate residents for loss resulting from events you're not responsible for.
If a renter's belongings get damaged due to a fire caused by faulty wiring, for instance, he or she may blame you and take you to court. As the landlord, insurance doesn't cover the personal property of tenants, you may have to cover the loss. But if you choose to implement the manufactured home community renters insurance, the policy will cover the cost of replacements and repairs, including damage to the community owned home, up to $100,000 for damage to the community owned property and $25,000 of tenants personal belongings.
Your insurance premium might increase.
If a tenant doesn't have renters insurance, and he or she causes a guest or neighbor to suffer a loss through property damage or bodily injury, the person can file a claim against you. If your insurance company agrees to pay the monetary compensation awarded to the victim, your insurance premiums may be higher in the future.
You may have more responsibilities.
If an unfortunate event like a fire or water damage takes place and your residents don't have renters insurance, you may be responsible for finding and paying for temporary housing. On the other hand, the tenants with renters insurance wouldn't need to rely on you to pay for a temporary place to stay, as renters policies cover temporary living arrangements and associated expenses.
You will need to pay a deductible.
If a tenant who doesn't have insurance, damages the home they are occupying, your community property policy provides coverage for repairs. But in this case, you'll need to pay a deductible, which can be a substantial amount of money. Conversely, this type of renters insurance program doesn't require a deductible on damage to the community property. In addition, the fewer claims that are reported to your community property policy, the more favorable rates the carrier will charge at renewal.
For manufactured home community owners, a Manufactured Home Community Rentals Insurance Program provides an extra layer of protection, which can be extremely beneficial when settling litigious matters. For tenants, it's an inexpensive way to protect themselves against loss as a result of various unfortunate events, including damage to the building and injuries caused by pets. Key to liability claims, the program provides coverage for defense costs, even when the tenant is not liable for damages.
Now, if you are wondering how you can get adequate insurance coverage for your community rentals, it's essential to know that most insurers don't take on the responsibility of insuring manufactured home community rentals like this. But Triad Financial Services is one of the companies that specialize in exactly this sort of coverage.
To learn more about our manufactured home insurance products and services, please contact us today at 844-375-7224. Our friendly and experienced professionals will be glad to discuss your coverage needs and help you choose the right renters insurance for your community.