Compared to homeownership, renting a manufactured home generally means fewer things to worry about and deal with. But this doesn't apply to insurance. As more and more landlords require tenants to carry insurance, renters face two major challenges: finding a reliable insurer and getting the best possible deal.
However, some renters are lucky enough to find manufactured home communities that offer renters insurance as part of their lease agreements and, even more important, at a lower rate.
By adding a Manufactured Home Community Rentals Insurance Program to its lease agreements, for instance, a manufactured home community can protect itself and all of its residents against loss potentially resulting from covered claims, without tenants having to complete additional application forms or require quotes. Once enrolled, the residents will pay the small monthly insurance premium together with the rent.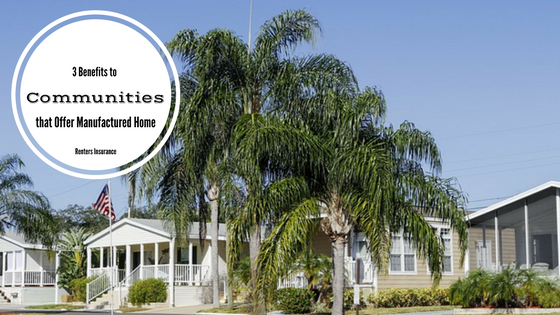 Now, let's go through the top three benefits of opting for manufactured home communities enrolled in an all-inclusive manufactured home rental insurance plan.
Comprehensive Protection for Personal Property
Many renters wrongly assume that their landlord's insurance also protects their personal property from unforeseen events. In reality, however, landlord's insurance doesn't cover tenant's' belongings.
Conversely, the manufactured home renters insurance can be used to pay for the repair or replacement of personal property damaged or destroyed by an insured event, such as a fire or tornado. Likewise, if your rented manufactured home is broken into, the renters insurance policy will cover the items that have been taken or damaged. To make the most of their insurance coverage, we advise renters to maintain an inventory of their possessions and update it regularly.
Personal Liability Protection
In addition to providing coverage for the personal property of residents, a manufactured home renters insurance includes personal liability protection. This means that if a renter, one of his or her family members, or his or her pet damages another resident's possessions or the rental property, the plan will provide financial reimbursement to cover the loss, up to the amount specified in the policy. For instance, if a tenant accidentally rides his or her bike into a parked car, the manufactured home renters insurance will cover the losses associated.
An insurance program for manufactured home communities also covers the medical-related expenses of others, without a lawsuit being filed by the injured party against the community or against the resident at fault for the injuries.
Discounted Insurance Rates
Because renters insurance for manufactured homes provides a specialized form of coverage, it's quite expensive—the annual premium frequently starts at $220.
Thanks to our manufactured home renters insurance, which allows all the residents in a community to participate in the same insurance program, Triad Financial Services is able to provide comprehensive coverage, including accidental damage, personal property and liability, and pet liability, for just $156 per year. Considering that a stand alone dog liability insurance policies can cost up to $800, our community-based insurance program provides a reasonable solution.
All in all, manufactured home renters insurance delivers a relatively inexpensive way to protect everyone from financial loss resulting from a wide variety of perils. To learn more about our program, communities can call our insurance specialists today at 844-375-7224 to arrange for coverage for their tenants.