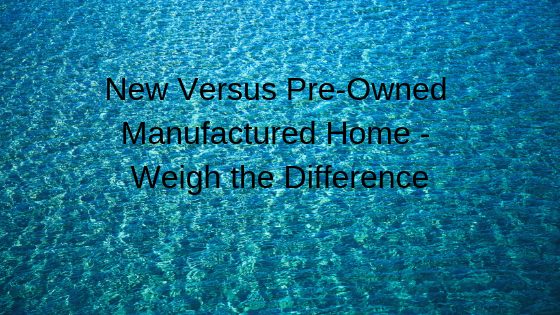 There are several schools of thought when it comes to purchasing a manufactured home. You can choose between a new or pre-owned home, and many dealers have both options available on site. However, your decision may come down to cost and logistics in the end. Here are a few of the factors you should consider when deciding between new and pre-owned homes.
What You Get with a New Home
Obviously, there are many benefits to purchasing a brand new home. For instance, you know that the quality of the home is top notch because it just came from the factory. In addition, you can fully customize the design of your new home down to every wall color and cabinet door. For many people, the desire to own something brand new is the driving force because it eliminates many of the problems associated with buying a pre-owned home without having a full history of how well the house was cared for. In the long run, new homes also offer peace of mind because they are typically covered by a warranty for the first year, and you are less likely to be faced with major maintenance during this time. You will move into your home knowing that the roof, water heater, and other major appliances have a ten or fifteen-year lifespan ahead of them where you can live worry-free.
Benefits of Buying Pre-Owned
On the flip side, there are many reasons that buying a pre-owned home is a good choice as well. In some cases, manufactured home dealers have pre-owned, refurbished homes on their lot which have been repossessed. You can often get these homes at a great discount, and you get the same peace of mind knowing that the dealer has inspected and repaired anything that may have been wrong with the home. On the other hand, pre-owned homes that are already on a piece of land offer many more benefits. First of all, there are some significant hoops to jump through when it comes to placing a new manufactured home on land. You need to have land available, and then you need to have power, water and other utilities installed on the land. You will also need to acquire permits and have inspections done before you can move in. These costs are separate from the cost of the home on the lot, and can seriously hamper your enthusiasm when buying new. A pre-owned home that has already gone through these steps will ultimately save you a lot of stress and money by opting for pre-owned.
In addition, having a manufactured home already placed on land opens up more possibilities for getting financing because you may qualify for traditional mortgages that are not available when purchasing a home separate from land. While there are several programs available for people to purchase manufactured homes today, having a home already placed on land is usually more favorable with lenders because they can add the value of the real estate to the property.
Ultimately, the decision to buy new or pre-owned comes down to your personal finances and preferences. If you want the ability to fully customize your design and place it on a piece of land of your choosing, then buying new is the right answer for you. However, if you want to be able to move in quick and work on a budget, a pre-owned home may be the better solution. Remember, you can still remodel or update a pre-owned home at your own pace once you have moved in. The best solution is to contact a home manufacturer or lender near you and ask them about new and pre-owned homes available in your area to get a better idea of what you are shopping for.