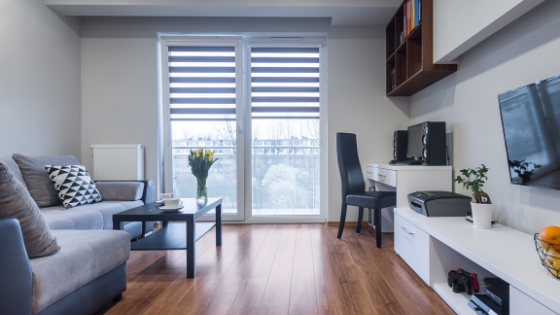 Manufactured homes are available in single-, double-, and triple-wide floor plans that can fit the needs and wants of different homeowners. However, some people prefer buying single-wides for two main reasons: these manufactured homes come in a variety of configurations that range from highly compact to relatively spacious layouts; they're less expensive than double- and triple-wides, so homebuyers can save a lot of money over the life of their manufactured home loans.
Additionally, single-wide manufactured homes can be considered the most versatile type of factory-built housing. That's because they provide a wide range of layouts within a relatively small footprint. As a small footprint requires a smaller lot, as well as less excavation and grading, single-wides can reduce the site preparation costs significantly.
If you intend to purchase or you already own a single-wide manufactured home, here are a few tips and tricks that you can implement in order to use your space more efficiently and make your home look bigger.
Choose Double-Duty Furniture
In a small room, every inch counts! That's why using double-duty furniture is always a good idea if you wish to maximize your space. Instead of using regular chairs, for instance, you could opt for a bench or ottomans with hidden storage compartments. You can also find dining sets and small coffee table sets with integrated chairs/ottomans. Because the chairs/ottomans can be easily tucked away under the table after use, these sets are perfect for smaller spaces. As well, furniture manufacturers provide a variety of foldable chairs, tables, and "floating" desks that can be folded up when not in use to save space.
Skirted furniture is another great option for a smaller manufactured home. Although the furniture with exposed legs, which makes the space underneath more visible, can open up a room and create an airy, spacious feel, skirted furniture is the way to go if you need extra storage. Besides providing hidden storage, skirted furniture is highly decorative, so it can add a touch of sophistication to your rooms. In addition to choosing the right furniture, it's important to select area rugs that can make your rooms appear larger. Because patterned rugs can make a small space look crowded, solid-colored area rugs or rugs with subtle, delicate patterns are more appropriate for smaller spaces.
Go Vertically
In a smaller manufactured home, using the vertical space available can help you save a lot of floor space. For instance, you could choose tall bookshelves or install individual shelves all the way up to the ceiling. You could also opt for a living wall planter instead of flower pots that would otherwise take up valuable floor or table space.

Using the back of your doors is another great space-saving strategy. Hanging a few over-the-door shoe bags on the inside of your closet doors will allow you to store items like shoes, winter hats, gloves, rolled up scarves, and handbags. You can also find different over-the-door organizers that are perfect storage solutions for items that don't work well in drawers and aren't made for hanging, such as sunglasses and bow ties. To store all of your toiletries and even bathroom cleaning supplies on the back of your bathroom door, you can use over-the-door storage baskets. Besides saving a lot of space, these organizers make it easier to see when you're running low on something, so you can add it to your shopping list before running out of it.
Opt for Sliding Glass Doors
Unlike a door that swings open, a sliding door is a real space saver, as it takes up only the space for the frame. Sliding glass doors also look very stylish and increase the amount of natural light in your manufactured home. It's a generally known fact that natural light can make a space appear brighter and bigger, while also improving your overall wellbeing. Additionally, a sliding patio glass door will allow you to better connect your interior living space with the exterior, which will create the illusion of more space.
Downsize Your Accessories
If you live in a smaller manufactured home, it's very important to take into account the scale of your accessories in relation to the size of each room in order to create a functional and comfortable space. Instead of installing a large ceiling light fixture, for instance, you could choose smaller light fixtures that take up less space, such as wall sconces. As well, you may want to consider opting for smaller furniture pieces. As an example, swapping your large sofa for a loveseat could make your living room look less crowded.
Irrespective of the space-saving strategies you choose to implement, we hope that the ideas presented above will help you make the most of your space and add style to every room in your manufactured home.