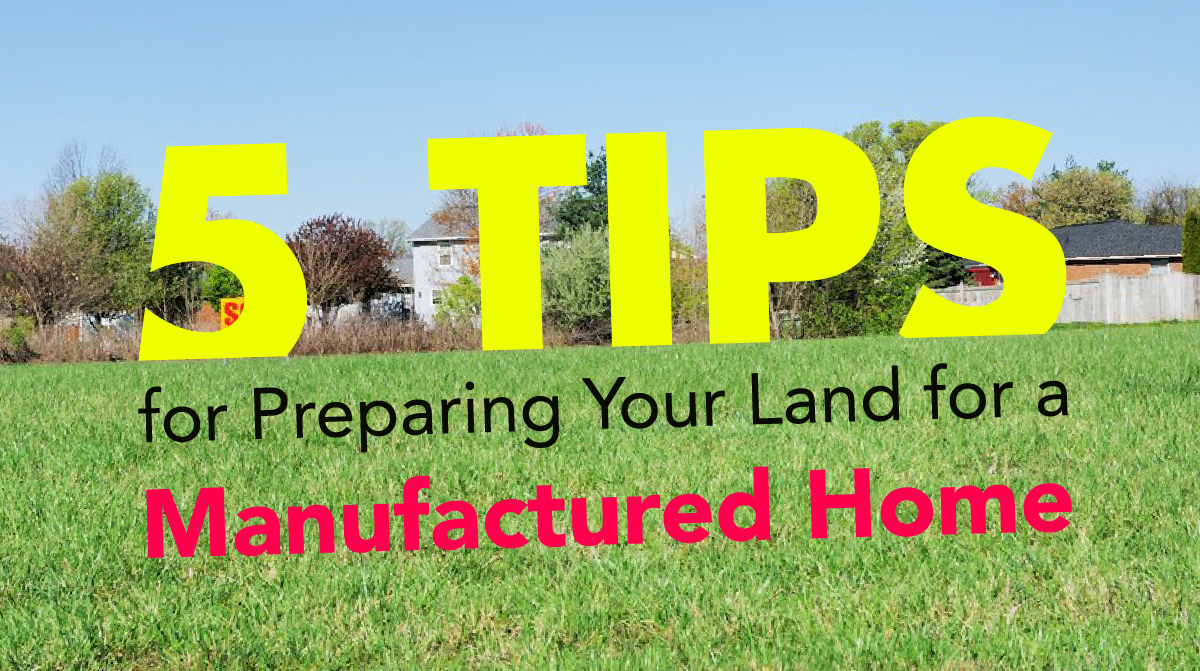 One of the greatest advantages of manufactured homes is that they allow homebuyers to establish a residence on vacant land faster than conventional site-built construction. However, site preparation is key to a quick, hassle-free manufactured home installation and setup.
Although preparing your land for a manufactured home can vary according to the specifics of your lot and the amenities you want, the following five steps and useful tips can help you ensure the correct installation of your manufactured home and its durability over the long run, while also allowing you to move into your home sooner.
1. Order a land survey
Before commencing any site preparation work, it's important to have a site inspection done. Even if you already have an old land survey, it may include vague descriptions, incorrect information or outdated landmarks that could negatively impact the safe and smooth delivery and installation of your manufactured home. Conversely, a new report issued by a land surveyor will include updated information, point out any discrepancies between the original and current measurements, and indicate whether your property is suited for a manufactured home.
TIP: A new land survey will also outline the current state of your property as it relates to zoning ordinances and municipal bylaws. If a private or rented lot is subject to zoning laws or other land use restrictions, you may be unable to place factory-built housing in that location, provided the local municipality rejects your building permit application for the installation of a manufactured home.
2. Apply for the permits necessary
A series of special permits, such as transport permit, building permit, occupancy permit, and/or utility connection permit, are typically required for the transportation and installation of manufactured homes. In general, local government sites and the organizations that operate in the manufactured housing industry can provide details about the permits you need to transport and install a manufactured home in your location.
TIP: In some states, the manufactured home transport companies are responsible for obtaining the transport permit, though the manufactured home owner will pay the fee for the permit. To prevent any potential problems, the rest of the permit applications should be submitted at least six weeks before the scheduled transport of the home to the lot.
3. Choose the location for your home
The next step is to ensure that the lot is level enough for the home. As well, you should mark the boundary lines of your property and establish the location of your home. This will allow you to determine how much room you'll have for the driveway and open outdoor space after installing the home.
TIP: To speed up manufactured home installation and setup, it's important to plan site access and remove any shrubs, trees and other vegetation that could interfere with the home installation process.
4. Build the foundation well in advance
Building a permanent foundation for a manufactured home usually requires pouring a thick concrete slab that needs time to fully cure and dry. Because concrete curing and drying time depends on ambient weather conditions, the foundation should be completed well before the scheduled home installation. To avoid delays, it's better to consult with your builder about the minimum recommended curing and drying time for a concrete foundation in your area.
TIP: Nowadays, the installation of a manufactured home must comply with a series of rules and regulations. For that reason, you should hire an experienced builder that is able to build the foundation in accordance with your manufactured home's floor plan and specifications as well as the latest HUD requirements and local building codes.
5. Bring in the utilities you need
Setting up utilities is another important thing that must be done when preparing your land for a manufactured home. If your land doesn't have any utility connections to city services, bringing utilities to your property can turn site preparation into a considerably more complex task. Besides hiring different contractors to dig trenches for utilities, run water pipes, install power lines, and place a propane tank and a septic tank, you need to cover all the costs associated.
TIP: Communicate your schedule needs with your contractors to ensure they finish the work before the estimated delivery date for your manufactured home.
Preparing your land for a manufactured home and installing the home may seem more difficult and stressful than it actually is. In most cases, the companies that are involved in financing, selling, transporting and installing manufactured homes can guide you every step of the way, so the only thing you need to do is supply a few signatures. As an example, for information about manufactured home financing, you can get in touch with our friendly professionals who will be more than happy to help you choose a manufactured home loan that best suits your needs and goals.