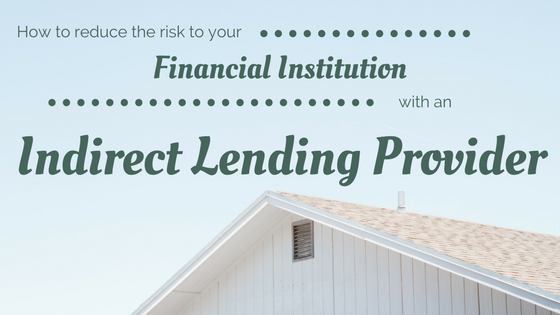 When it comes to lending, issuing loans is the easy part; the hard part is ensuring that the loan servicing process addresses the needs of borrowers in a proactive way.
Although some financial institutions prefer to carry out their loan servicing operations in-house, huge benefits can be obtained by outsourcing certain tasks, which are often time-consuming and cumbersome, to a trusted loan servicing provider.
Reducing the overall risk associated with servicing new loan products added to a portfolio is by far the most important advantage of opting for an indirect lender.
Here is how teaming up with the right manufactured home loan servicing provider dedicated to servicing loans and managing the borrower relationship can help your financial institution.
Specialized expertise. Enlisting the services of an indirect lender like Triad Financial Services will give you access to a large, multifaceted team of experts. As these professionals have plenty of experience in this industry, they're able to perform a complete range of services on your behalf, while speeding up loan processing, meeting the level of service expected, and reducing the risk of errors and non-compliance.
Lower costs. Another great benefit of utilizing a loan servicing company is that you don't need to hire additional staff or invest in a new software solution. Thus, your financial institution will be able to offer new loan products and services without incurring the upfront costs or ongoing overhead expenses that are standard when servicing manufactured home loans (e.g. licensing fees, office supplies, staff training, salaries, benefits, etc.).
As a third-party loan servicing provider can handle everything, from applicant screening, loan processing and closing to payment collection and portfolio performance monitoring at a lower cost per item, your organization will get higher lending returns.
Improved efficiency. By partnering with an experienced and reputable loan servicing provider, your financial institution won't just minimize its operating costs. It will also be able to boost its operational efficiency and flexibility. These two elements can go a long way in helping your organization streamline its operations and keep up with borrowers' demands.
Effective communication. A dedicated loan servicing provider that monitors collection activities and has an effective communication plan in place can help you strengthen and deepen the relationship you have with your borrowers. As a result, the borrowers facing financial difficulties will feel encouraged to approach the loan servicer and renegotiate their repayment plans, terms and conditions as soon as they face credit difficulties instead of waiting until they default on their loans. This will lead to lower delinquency rates for your organization.
Compliance. Full compliance with the lending criteria of each financial institution as well as with all the applicable state and federal regulations is a critical aspect, especially if we consider that the penalties for non-compliance can be severe, potentially threatening the long-term viability of a financial institution.
Although compliance can be difficult to achieve on a consistent basis, a good loan servicing provider can follow strict enforcement procedures and help a financial institution stay ahead of the curve by keeping up with regulations and technology shifts.
Partnering with an indirect lender that specializes in manufactured home loans won't only reduce the risks associated with handling new loan products in-house; it will also allow you to provide an enhanced level of service and superior value to your borrowers, while achieving a solid ROI.
If your financial institution is ready to outsource services like applicant screening, manufactured home loan processing, payment collection and portfolio monitoring to a reliable indirect lender, you can get started by calling (800)-522-2013 x1287 and talking to one of our representatives.