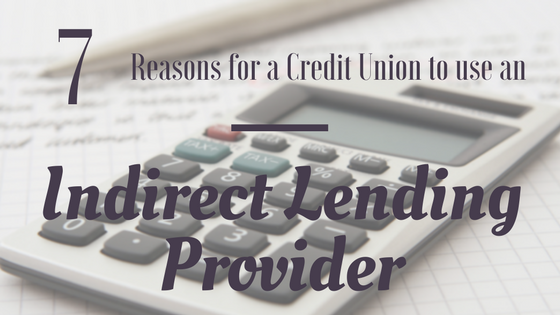 An indirect lending program holds numerous compelling advantages for credit unions. But to make the most of an indirect lending initiative, a credit union should team up with a reputable lending partner. Here are just seven reasons why your credit union should do that, especially when considering indirect manufactured home lending.
When it comes to indirect lending performance, partnerships are crucial.
The best indirect manufactured home lending programs provide access not only to highly skilled experts, more efficient lending systems and processes, and lucrative manufactured home lending opportunities, which can further enhance your loan portfolio, but also to a relevant and extensive network of lending partners. All these are critical for your credit union's portfolio performance.
Indirect lending programs can help credit unions compete more effectively.
By entering an indirect manufactured home lending program, your credit union can benefit from a wide range of services, including applicant screening, processing, loan underwriting, closing, payment collection and portfolio performance monitoring.All these services allow you to try a new, more cost-effective way to get an indirect manufactured home lending program up and running, without incurring any additional operational costs.If the program delivers the results expected, your organization will be able to permanently expand its loan portfolio and capabilities, offer its members a wider range of housing finance options, and boost its overall performance and returns.
An experienced and reputable lender can ensure compliance with applicable laws and regulations.
There are many compliance risks that may arise from non-conformance or violations of consumer protection laws.However, a reputable lender that has a good reputation and plenty of experience across the manufactured home lending industry will also have clear guidelines and practices in place to limit compliance risks in indirect lending programs. Among these, we enumerate:- up-to-date lending policies;- adequate training for all the employees involved in the program;- ongoing monitoring for compliance with rules, regulations, policies and procedures intended to reduce compliance risks;- regular assessments of borrower creditworthiness, underwriting procedures, pricing, credit transactions and program's performance.
Indirect manufactured home lending programs provide access to external expertise.
Several indirect manufactured home lending providers have operated in this industry for more than 50 years. Partnering with an experienced lender can help your credit union avoid the pitfalls most financial institutions fall victim to when they handle indirect lending in-house.
Some indirect lending providers offer "scalable"
lending solutions.
One of the greatest things about teaming up with a leading manufactured home financing company is that it can easily ramp up and down to meet the changing needs and demands of its customers and partners. What's more, only such a company has the requisite experience and expertise to comply even with the strictest lending criteria and standards.
Credit unions can strengthen the relationship with their members and partners.
By using an indirect lending provider, your credit union can intensify its focus on finding solutions that better address the financial needs of a higher number of members and partners. This, in turn, will promote sustainable loan portfolio growth. As your credit union drives value back to its members, it will be able to develop more successful products and services for it's members.
The right indirect lending provider can boost your reputation.
Partnering with an indirect lending provider that offers a comprehensive indirect lending program, with competitive manufactured home loan products and high-quality services, can help your credit union become successful in the manufactured home lending sector.For more information about the fundamentals of indirect manufactured home lending programs, please feel free to contact our experts.