Assessing the Benefits of an Indirect Lending Program for Credit Unions
August 1, 2017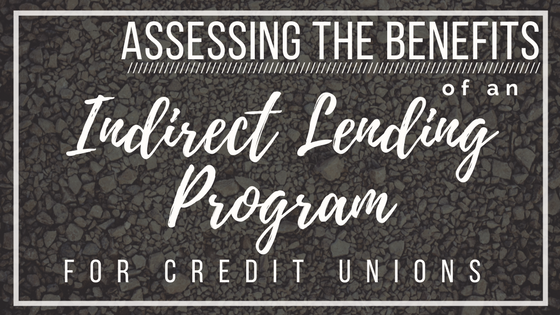 Participating in an indirect lending program for manufactured homes is just one of the strategies a credit union can adopt in order to diversify its loan portfolio and offer its members affordable credit options for financing manufactured home purchases.
Although many financial institutions have successfully established an indirect manufactured home lending program, some credit unions are still pondering the pros and cons of entering into an indirect lending relationship with a manufactured home lender.
Similar to any other investment opportunities available for credit unions, an indirect lending program comes with its own set of risks. It is for this reason a credit union should perform a comprehensive analysis of all the possible risks and benefits along with an in-depth due diligence on the lender it intends to partner with.
Now, let's take a look at the benefits of a well-run indirect lending program by an experienced manufactured home lender.
Indirect lending can help a credit union grow its loan portfolio.
For some credit unions, developing a manufactured home lending program internally can be difficult, particularly because of time and resource constraints. But that doesn't mean that an indirect lending program can't become a reality for a credit union.

In fact, a successful indirect lending program without a sizable investment is possible when a credit union teams up with the right manufactured home lender. Nowadays, several manufactured home lenders have the expertise, experience and

resources

necessary to manage everything, from applicant screening, loan origination and closing procedures to payment processing and collection, compliance with industry standards and portfolio performance monitoring.

Making available affordable financing alternatives to communities leads to higher loan originations, which will translate into

more income for the credit union

, according to

Credit Union Times

magazine.
An indirect lending program allows credit unions to meet specific needs.
One of the reasons why credit unions exist is to offer their members affordable financial products and quality financial services. With an indirect manufactured home lending program, a credit union will not only achieve these goals; it will also be able to extend the availability of competitive credit opportunities to

increasing numbers of people

who are looking for affordable housing options.
Indirect lending can help a credit union increase its market share.
By adopting an indirect lending program, a credit union can establish a new market and reinforce its identity as one of the most important players in the local community. Since indirect manufactured home lending programs are often developed in conjunction with state or local housing initiatives, such as the "

Duty to Serve

" rule, a credit union can get the most out of the manufactured home financing solutions it adds to its loan portfolio.
These are just some of the benefits of implementing an indirect lending program.
But before you opt for such a program, it's essential to know that finding an experienced and reputable manufactured home lender, and communicating your expectations, lending criteria and underwriting policies along with the consequences of failing to comply with your requirements are a few things you need to do in order to achieve the results expected.
With more than 50 years of experience in the manufactured home lending sector, Triad Financial Services works hard to provide indirect lending programs that drive value back to its partners and their customers, while helping credit unions grow their member base and decrease internal costs. To find out more about the indirect manufactured home lending programs we currently provide, please call our toll-free number (800) 522-2013 x1634 or email investors@triadfs.com.