Why You Should Consider Buying a Manufactured Home
September 28, 2018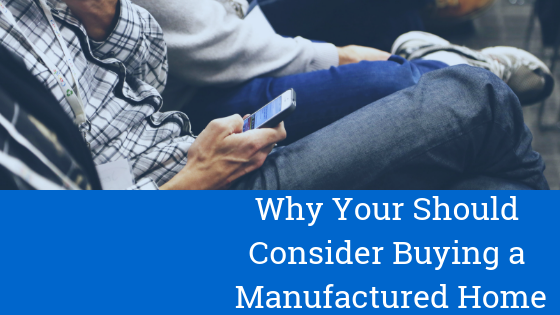 For many people, the idea of buying a manufactured home is foreign. Few people recognize the important role that manufactured homes play in today's housing market, or how they have improved over the years to provide an excellent level of comfort and design. Here are just a few of the reasons you should be thinking about a manufactured home:
More Options For Today's Homeowner
One of the greatest benefits of choosing a manufactured home is the sheer number of options available for you to buy. For instance, most builders of manufactured homes will allow you to fully customize your design from the ground up without breaking the bank. This is because their homes are built in a factory where all of the parts are movable to meet your specifications without adding a significant cost to the homebuyer. By contrast, if you were to have a site built home customized, you would spend a small fortune just for the design drawings and basic upgrades like granite countertops. Manufactured homes also typically come with a range of different material options already available so you can pick or choose your colors and they can be installed in no time at all.
Financing Without Major Run Arounds
With manufactured homes, you may have better luck getting the financing you need. The mortgage industry has really tightened up in recent years, and qualifying for a regular mortgage can be a real headache. Not only do you have your information sent to a multitude of underwriters, but often your mortgage is later sold multiple times which is a headache within itself. Lenders who specialize in manufactured homes truly understand the process of your purchase. In addition, these homes typically cost less than regular site built homes, so you won't have to borrow as much to get the home of your dreams.
Safety and Security Comes with a Manufactured Home
Some people believe that manufactured homes are made with sub-par building materials. This simply isn't true. In fact, manufactured homes are built using materials and systems that exceed the demands of a site built house. This is because the home needs to be able to withstand regular living and also must hold up to the elements the environment tends to dish out. Thus, extra support structures are required and stay in place even after your home is placed on land.
Energy Efficiency - A Part of Today's Manufactured Home
There has been a strong focus placed on improving the energy efficiency of manufactured homes in recent years. The good news is that manufacturers have really invested in quality materials to keep these homes well insulated and running smoothly. Now you can even save money by opting for a modern energy efficient home that has insulating properties you won't find in an older traditional homes.
Less Waste Than Site Built Homes
Did you know that site built homes produce a large amount of waste material that ends up in landfills? From leftover shingles to scraps of wood, every site built home contributes to our waste problem. By contrast, manufactured homes are precision built inside a closed manufacturing system where waste can be reduced by up to 40%! They are more environmentally friendly to build, and they last just as long as traditional site built homes when cared for properly!
As you can see, buying a manufactured home can actually save you money in the short term while giving you the most flexibility to design the house of your dreams, and save you money long term thanks to energy efficiency improvements! If you have been searching for a home with little luck or you are tired of dealing with conventional lenders, now is the time to start looking at what a manufactured home could do for you! You will be amazed by how far this industry has come in the last decade, and you are sure to find a home that will fit your needs and design ideas.