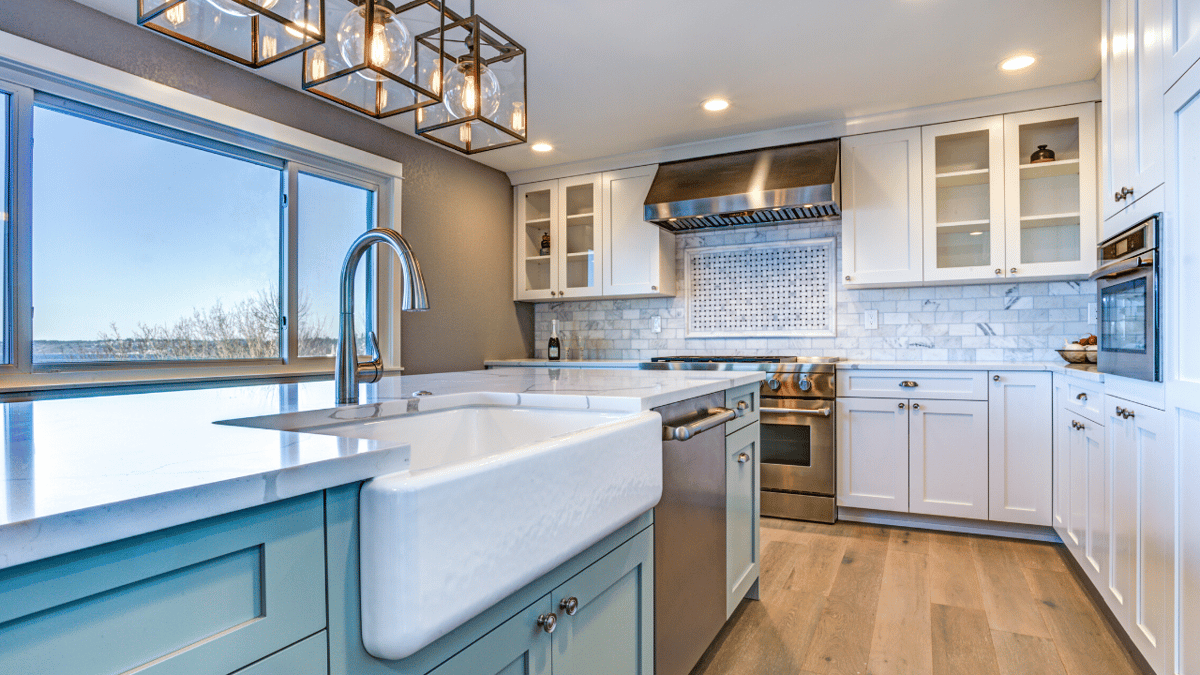 The farmhouse style is something that everyone craves when it comes to homes nowadays! Luckily, manufactured homes can have the same rustic, charming, and comfortable farmhouse feeling that you are looking for! Whether it is adding features to an existing home or designing your manufactured home to have that farmhouse feel, there are plenty of options. This little guide will explain exactly what the farmhouse style is, and it will tell you exactly how to get it for your home!
Barn Doors
Barn doors are a quintessential piece to achieving that perfect farmhouse feeling, and luckily they are something that is easy to install! According to a recent study, barn doors bring in the highest premium, which means that installing these in your manufactured home could one day allow for the home to be sold at a higher price. Barn doors are very versatile, and they are good for closing off larger spaces, or taking that smaller space and opening it up by joining two rooms.
Farmhouse Kitchen
A farmhouse kitchen needs a few essential things; rustic countertops, bright white cabinets, and a farmhouse sink. A farmhouse sink, or an apron front sink, is a large open sink with a large amount of space that allows for even the biggest pots and pans to sit within it. Farmhouse sinks are not only a key piece of a farmhouse kitchen, but it is also a wonderful focal point to draw attention to. Rustic countertops, generally made of hardwood, come in a few different styles and options from raw wood edges to reclaimed wood or butcher block options, each with their own pros and cons! Bright white cabinets are easy to achieve with a little bit of paint and a lot of love.
Stand-Alone Tubs
Stand-alone tubs, or freestanding tubs, have a very rustic feeling. This makes them very common and prevalent in farmhouse manufactured homes! While there are pros and cons to a freestanding tub versus a built-in, to achieve that farmhouse feel, you'll want to pick a stand-alone. Stand-alones have a wide variety of design options, and their nature allows them to be placed anywhere in a bathroom, giving you more freedom in how your bathroom looks. Their installation is actually less than installing a built-in, and, much like the barn doors, they increase the resale value of a home!
Rustic Wood Ceiling Beams
Rustic wood ceiling beams remind everyone of the time spent in a remote cabin, which is why they are so popular for farmhouses! Adding ceiling beams immediately adds a homey, rustic vibe, and there are multitudes of options to pick from. Whether you decide to go with box beams or solid beams, either option will add to the farmhouse aesthetic of the home. Take it a step further and install decorative tile on the ceiling, to add a little bit of flair to your farmhouse look.
Beadboard Wainscoting
You may ask - what is beadboard wainscoting? Well, to put it simply, it is a wall accent. Beadboard is a popular type of paneling on a wall made up of narrow wood planks lined vertically or horizontally. These panels add a touch of decoration to any home and spruce up the walls. Since this accent is popular in farmhouses, it will give that little touch needed to give the rustic feel. Wainscoting is a term for any kind of decorative paneling, which perfectly describes what beadboard is. Another popular trend with beadboard is to use various colors of wood paneling to give the room extra character.
Whether you are starting from the ground up or adding features as you go, your dream farmhouse look is achievable and affordable when you purchase this style within your manufactured home!