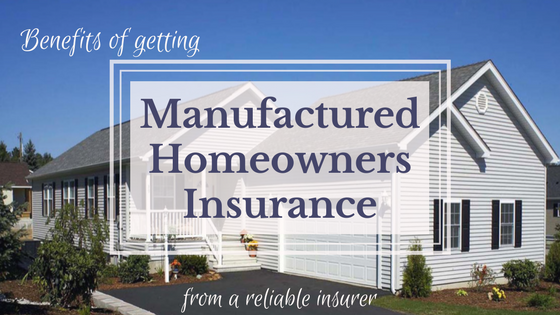 As with any other type of insurance, manufactured homeowners insurance plans can vary greatly from one insurer to another. If you already own or intend to purchase a manufactured home, ensuring that you have sufficient coverage is critical, should you ever need to file a claim under your policy.
If you're shopping around for manufactured homeowners insurance, you'll inevitably come across many different types of policies available to cover your home, personal belongings, and liability exposure. So, the question is: How can you find the best insurance plan? In addition to knowing exactly what level of coverage you need, getting manufactured homeowners insurance from a reliable company can bring a series of benefits, including the ones presented below.
The Best Manufactured Home Insurers Provide Comprehensive Insurance Plans
A reputable and experienced insurer is aware that helping customers to find insurance plans they can comfortably afford is half the battle; the other half is making certain that their homes and personal belongings are appropriately covered if an insured event occurs.
In addition to being able to assess the needs of each customer and recommend insurance products that best address those needs, a company specializing in the manufactured home insurance market knows these types of homes inside and out, and is familiar with the coverage gaps that can be found in other insurance products. As a result, it will be able to provide insurance plans that meet specific coverage requirements.
Some standard coverages you'll get by opting for an insurance plan from a reliable manufactured home insurer include:
Dwelling – This type of coverage provides financial protection for the physical structure of the home and additional structures, including garages, patios, decks, sheds, and other additions against a variety of disasters that range from vandalism, theft, and fire to hail, storms, and flooding.
Contents – A manufactured homeowners insurance policy will cover your furniture, kitchen appliances, electronics, clothing, and other belongings. However, this type of policy doesn't provide coverage for valuables, like jewelry and antiques, for which you should consider getting a

floater

.
Personal Liability – A manufactured homeowners insurance policy also protects you from claims or lawsuits filed by someone who was injured while on your property. In addition to covering medical expenses, lost wages, and compensation for pain and suffering, this coverage pays for damages to someone else's property.
"Loss of Use" Coverage –

"Loss of use" coverage

pays for the additional living expenses you may incur if a covered event makes your home uninhabitable while it's being repaired or rebuilt.
Because manufactured homes are sturdy enough to be installed in any area, including those exposed to natural hazards, like hurricane-force winds, floods, earthquakes, sinkholes, and landslides, it's important to make sure that your manufactured home is properly insured. If you live in an area exposed to any of these perils, you can opt for disaster insurance, which covers the entire cost of repairing or rebuilding your manufactured home at the current construction costs. Comprehensive coverage gives you peace of mind, especially considering that not everyone is eligible for federal disaster assistance.
Reliable Insurers Handle Claims in a Professional and Expeditious Manner
When it comes to protecting your most valuable asset, getting manufactured homeowners insurance from a company that can live up to your expectations when a disaster strikes is vital in order to make the most of an insurance policy.
Besides recommending the right insurance products for the level of protection you need and offering coverage you can rely on, a reputable insurer has all the necessary processes in place to settle claims quickly and accurately. This means that you'll be able to breathe a sigh of relief at claim time instead of dealing with unpleasant surprises.
The Best Manufactured Home Insurance Companies Provide Reliable Customer Service
Providing first-class customer service, a reputable insurance company will always make buying the right policy and renewing it before it expires easy for its customers.
As a reliable manufactured home insurance agency, Triad Financial Services dedicates the same amount of industry knowledge and experience to the manufactured home insurance sector as we do to the manufactured home lending market. Therefore, our insurance specialists can help you select the right manufactured homeowners insurance policy for your manufactured home. For any questions you may have, don't hesitate to call our experts at 1-800-522-2013, x1209.