A recent article by U.S. News indicates that investing in manufactured home communities has become a popular choice for good reasons.
While renting a home lot or community owned homes to tenants can generate hefty returns on investments, operating a manufactured home community also has its pitfalls.
In order to protect their investments, manufactured home community owners should be aware of the liability risks involved in renting out a piece of property and take the necessary steps to prevent them or at least minimize their potential negative effects.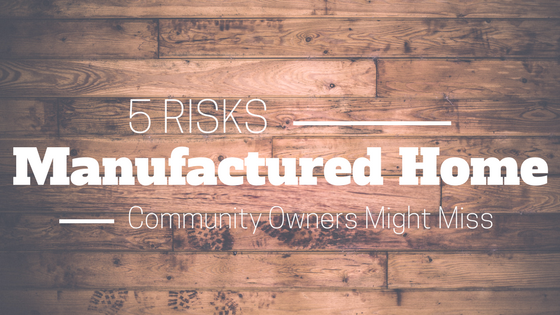 Here are the five most common risks faced by manufactured home communities.
Damage to Rental Units and Furnishings
Owning a manufactured home community involves more than just collecting payments from tenants and pocketing the profit. A community owner must also keep the rental units in a habitable condition for renters.
In addition to regular maintenance tasks, unexpected events like fires, hurricanes, theft and accidental damage caused by tenants or animals to the rented units and/or furnishings can significantly impact overall maintenance costs.
If a community doesn't carry adequate manufactured home insurance and an unfortunate event does occur, the community owner might have to pay for repairs and/or replacements out of his or her own pocket and even face civil litigation.
Premises Liability
Injuries can and do happen. If a tenant, guest, contractor or courier gets injured or is attacked by an animal while on the rented property of a community resident, the community operator can be held liable for the injury.
In liability situations, it's essential to remember that the owners of manufactured home communities are treated in the same manner as their tenants. This means that under the legal theory of premises liability, a manufactured home community owner or a renter can be held legally responsible for an injury, as long as it is the result of the owner's or tenant's negligence. The same theory applies to negligent acts that lead to damage to personal property.
Additional Liability Claims
While manufactured home communities typically hire independent contractors for maintenance and repair work, most of them also have their own employees who perform a series of tasks.
But what happens if an employee damages one of the community homes, a tenant's personal property, or worse, does something that leads to another person's injury? In the absence of adequate manufactured home insurance, the community may need to cover all the costs pertaining to property damage and/or injuries.
Personal Property
Manufactured home communities aren't necessarily responsible for their renters' belongings.
But if the personal property of a tenant is stolen, damaged or destroyed because of the action or inaction of the community owner, other renters or their pets, the community may need to settle the claim at its own expense, provided that its insurance doesn't include coverage for loss or damage to the renter's personal property.
To avoid such situations, we would suggest manufactured home communities to opt for specialized insurance that provides comprehensive coverage.
Legal Costs
A manufactured home community that operates without manufactured home insurance is at risk of having to pay not only the monetary compensations that might be awarded by courts in the future but also the defense costs associated.
Addressing the Risks
Opting for a comprehensive renters insurance program specifically designed to meet the unique needs of manufactured home communities remains one of the best ways to protect yourself, your investment and your residents against various perils.
To request a free, no-obligation insurance quote or to learn more about how to manage your insurance costs, please contact Triad Financial Services today.