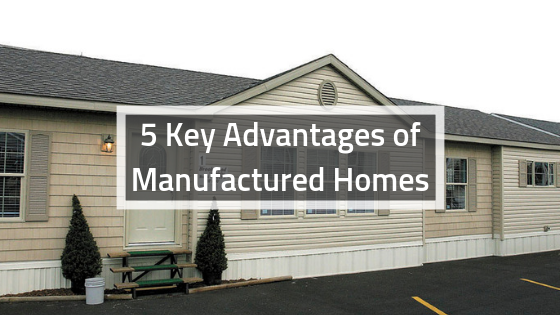 Manufactured homes are here to stay, and now more people are starting to wonder if there are some aspects of owning a manufactured home that have not been given enough credit in the past. We have compiled a list of five key advantages offered by manufactured homes that you won't find anywhere else:
Custom Builds for Less
One of the biggest advantages of choosing a manufactured home is the money that can be saved by going this route. However, it's not just that the house costs less to build. You also have more options for completely customizing your home to fit your budget. Buying new construction in a neighborhood typically costs more because you are working with only a few options that the builder has already outlined for you. With a manufactured home, the possibilities are virtually limitless.
Safety
For years, there has been a misconception that manufactured homes were made from inferior materials. The truth is that manufactured homes have to meet more and higher standards than site-built homes. This is because the homes must be up to HUD standards for living, but they must also meet additional safety standards for transport, which means reinforcing central components to ensure that the movement does not damage the frame.
Financing Options
The mortgage process is extremely difficult, even for people who have plenty of money. However, since manufactured homes do not technically qualify for a mortgage until the home is attached to the land, your financing options are different. Financing for manufactured homes is much closer to taking out a car loan than a home loan, and can be much more flexible in repayment terms. If you have struggled to meet guidelines for a traditional mortgage, you may be better off going for a loan on a manufactured home.
Placement
Finding a place to put your manufactured home is a matter of great importance before you buy. The good news is that there are many options available. Dedicated manufactured home communities offer a simple way for you to lease or buy some space with neighbors nearby if you want to take advantage of shared amenities. However, if you prefer privacy, you can always take your home out to some open land and enjoy the peace and quiet on your own. You are not limited by where builders are currently expanding or what type of homes are currently trending.
Energy Efficiency and Sustainability
While the materials used in stick-built homes have remained largely unchanged over the last few decades, the makers of manufactured homes have made some impressive headway in creating greener options. Today's manufactured homes are far more energy efficient than those of the past, and they are built using sustainable materials that create a much smaller carbon footprint. Since many costs of homeownership actually have to do with the resultant utilities, manufactured homes can offer a welcome reduction in living expenses for those who need it most.
There are many more advantages to buying manufactured homes, but these key elements are what really drive the demand for these homes today. Consumers appreciate the wider range of possibilities that are now available for homeownership thanks to the improvements in manufactured home technologies. These homes are flexible, sustainable, and safe for long term living, and they give homeowners more options for creating the ideal living situation to fit any budget and family size. Plus, more financial institutions are offering improved lending solutions that have opened the door to those who have been left out of the traditional mortgage process. For more information about the benefits of manufactured homes and lending options, contact Triad today.