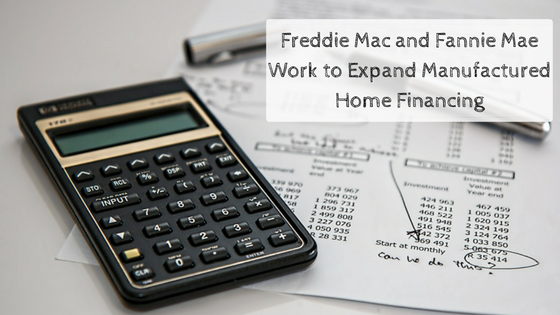 For banks and credit unions, the challenge of lending on manufactured homes has long been an issue. Demand for manufactured homes tends to rise and fall with economic shifts, and in some areas, housing inventory is so low that manufactured homes are a practical necessity for those who want to stop renting. The good news is that Freddie Mac and Fannie Mae have announced a major initiative to expand manufactured home financing to offer more opportunities to would-be homeowners.
Reaching Underserved Markets
The primary purpose of the new Freddie Mac and Fannie Mae programs is to reach markets who have been direly underserved in the past. Large portions of Appalachia and swaths of land along the Mississippi River are known for their reliance on manufactured homes. Not only is the economy in these areas somewhat stunted, but manufactured homes are one of the only affordable means of building new housing in these regions to meet the needs of the residents. There are also areas of farmland throughout the Midwest that need more access to affordable housing as well.
Unfortunately, the vast majority of manufactured home loans currently are made as chattel loans where the house itself is not taken as part of the real estate. This has been a problem for lenders who could not sell the loans on the secondary market to create more capital for lending. Lenders who did loan on these properties had a very limited ability to serve new customers in the long run.
How The Market is Changing
As manufactured home technology has become more reliable, and more homeowners are choosing to live outside of major cities, demand for these homes has risen drastically. Lenders have struggled to offer loans comparable to a traditional mortgage loan, but with little luck. Thus, Freddie Mac and Fannie Mae have decided to step in and expand their reach. Most notably, Freddie Mac has issued new guidelines for eligible loans which will ensure that banks and credit unions are able to put these loans on the secondary market as long as they meet the guidelines for title and liens. Under these new guidelines, banks and credit unions can feel confident using 15, 20 or 30 year mortgages for manufactured homes, especially if the purchaser owns the land that the home will be placed on. Together, these loans can be assessed for collateral and the buyer need only put 5% down to make the loan eligible for Freddie Mac.
By contrast, Fannie Mae's new program is meant to expand the current HomeReady program which allows for loans with up to a 97% loan-to-value ratio. This means that purchasers need to put 3% down on the purchase, but the loan will be insured by the Fannie Mae program. Previously, all Fannie Mae loans for manufactured homes required a 5% down payment. This will open up more possibilities for buyers in lower income brackets who do not have as much liquid assets as traditional buyers. Fannie Mae will also make a number of loan products available for renovating or home improvement, similar to equity lines on traditional houses.
For credit unions and banks, this new expansion means that a greater percentage of customers can be served with better loan programs. It makes reinvestment in the local economy possible by giving families the stability of homeownership at a fair rate. This is especially important in areas that are experiencing slow economic growth, or who rely on manufactured homes in sparsely populated areas. Lenders can feel confident that their investment in these loans is now protected by the same programs that serve in traditional lending as a buffer against loss.