Data is the most important asset of many organizations, yet when it is compromised, coverage is not provided by an unendorsed general liability policy. Considering that small errors, such as using an unencrypted USB stick or laptop, can lead to data breach incidents, finding ways to reduce cyber security risks as much as possible is imperative.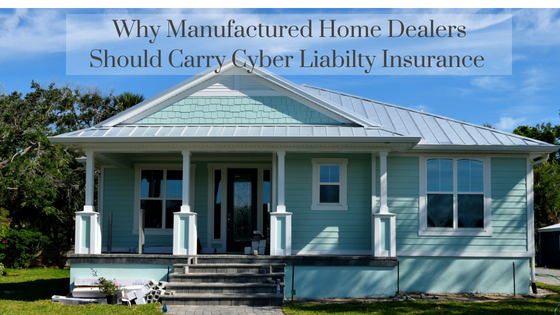 Besides training employees, opting for cyber liability coverage remains the best line of defense against data breaches and the costs associated.
Now, to better understand the value and importance of cyber liability coverage for manufactured home dealers, let's go through the most important reasons to carry this type of insurance.
Cyber Liability Insurance Covers More Than Expected
In general, a cyber liability insurance policy covers:
Data breach crisis management – Your insurer will cover the costs associated with the management, investigation, and remediation of a data breach, as well as other expenses, like extortion, penalties, fines, and legal costs.
Network security liability – Most cyber policies provide coverage for the theft of sensitive information on third-party systems and potential third-party damages resulting from denial of access.
Media – Cyber liability coverage also includes damage to business reputation, specific defacement of websites, and intellectual property rights infringement.
To get the most seamless coverage possible for your company, it's essential to work with your insurer in order to integrate cyber liability with your general and employment liability policies.
Business Interruption Insurance Doesn't Include Data Breach Incidents
Similar to other businesses, manufactured home dealers rely on their customer base and computer systems to carry out day-to-day business operations. In the event that a cyber attack brings down your organization's systems, conventional business interruption insurance won't cover the losses associated.
That is because business interruption insurance compensates the insured for the financial losses resulting from the downtime caused by specific perils, such as fire, wind, falling objects, lightening, and theft. Cyber liability insurance is the only type of insurance that provides financial protection against a broad range of information security-related claims.
You Could Be Held Liable Even If Your Data Is Stored On Third-Party Servers
As a manufactured home dealer, you hold sensitive information about your customers and business partners. Commercial contracts and non-disclosure agreements often include provisions in relation to the security of this information. Under these provisions, you can be held liable for data breaches and forensic investigation costs.
Even though you can't fully control how a third-party provider handles your sensitive information, your company is still legally responsible for the management of customer data, network threat detection, security monitoring, and incident reporting.
Since all data management systems are vulnerable to IT security breaches, having cyber liability coverage in place will at least protect you if your third-party host suffers a breach.
Hackers Target all Businesses
While cyber attacks typically involve big companies, small and medium-sized enterprises are also at risk. When a data breach occurs, a small company might not have the financial resources necessary to get back on track right away.
Depending on the type of data lost, a cyber attack can leave a company suffering for months, or even years. Cyber liability coverage can protect both small and large companies against the effects of a privacy breach.
Cyber Liability Coverage Protects Your Company's Reputation
When a business falls victim to a data breach, it risks losing the trust of its customers. This can harm the company far more than the immediate financial loss.
Cyber liability insurance can cover both the cost of engaging a public relations firm to restore your company's reputation and the loss of future sales that you may incur as a direct result of customers switching to your competitors.
In today's interconnected world, it's almost impossible to conduct a business without using the Internet. As a result, cyber liability coverage is no longer a luxury, but a necessity.
Whether you're dealing with protected data or not, cyber liability insurance can help your company bounce back after a data breach or network security failure. To find out more about cyber liability coverage and its benefits for manufactured home dealers, please contact Triad Financial Services today!