If you're in the market for manufactured housing alternatives, there are several factors to consider prior to buying a manufactured home. Because purchasing a home can be difficult sometimes, a few things that can make this process easier and more enjoyable are:
Knowing the financing options available;
Choosing the right type of home and location from the very beginning;
Understanding warranties;
Inspecting the home thoroughly before and after the purchase.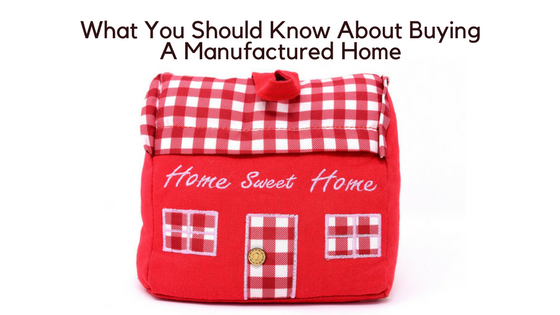 Financing Options
Manufactured home financing can go through one of two avenues; chattel loan or a conventional mortgage.
Chattel loans can be used to purchase manufactured homes that aren't permanently affixed to land. These homes can be placed in land-lease communities, on private rental lots, family land, or on land that buyers already own or are still paying for.
A conventional mortgage can be used when buying a manufactured home that has a permanent foundation and is classified as real property. If the home buyer doesn't own the lot, the cost of the manufactured home and land can be rolled together into the same manufactured home loan with land.
Choosing the Right Manufactured Home and Site for It
When it comes to buying a manufactured home, considering the needs and wants of your family is very important. With today's single-, double-, and triple-wide manufactured homes, potential home buyers aren't required to sacrifice floor space, quality, or amenities for cost savings.
Nowadays, manufacturers offer a variety of manufactured home floor plans that can meet even the most demanding expectations. Whether you're searching for a tiny manufactured home that's perfect for a small family or for a spacious home to accommodate a large, growing family, you can find some amazing, customizable manufactured home options that will fit your exact needs.
Coming down to choosing the right location for your home, it's essential that you consider electrical, water, and sewer connections as well as any applicable zoning requirements and restrictive covenants. Additionally, homeowners are responsible for the preparation of their sites and for obtaining all the permits necessary, except for when they place their homes in rental communities. Adequate access to the site is another aspect a homeowner should consider in order to prevent damage to the home prior to installation.
Warranty
When purchasing a new manufactured home, the buyer receives retailer, manufacturer, and appliance warranties along with a homeowner's manual.
While the retailer's warranty presents the terms and conditions applicable with regard to the warranty issued by the retailer, the manufacturer's warranty covers any defects in materials, workmanship of the structure, electrical, heating, and plumbing systems, as well as the appliances installed during the manufacturing process. Appliances may also be covered by separate warranties.
The homeowner's manual provides general maintenance and safety guidelines that are designed to assist homeowners with the care and maintenance of their homes. Failure to maintain a manufactured home properly, according to the manufacturer's instructions, could reduce its lifespan and void the warranty.
When buying a manufactured home, it's up to the buyer's advantage to have the home installed by a licensed professional. If the home is installed by an unlicensed installer or by a non-professional, the manufacturer won't assume any responsibility for damages or losses resulting from faulty installation. In this case, the warranty becomes null and void.
Home Inspection
Before buying a manufactured home, it's important to inspect it both inside and out before making an offer. You should verify that all appliances, faucets, and windows are in good working order and check walls, ceilings, and floors for damage. Also, if you're buying a new home, open and close all exterior and interior doors. A door that doesn't open or close properly, for instance, might indicate some problems with the installation.
If you're interested in buying a manufactured home and wonder what financing options are available to you, feel free to contact Triad Financial Services. Our loan officers will be more than happy to discuss your options on the manufactured home loans that best fit your financial situation and the home you intend to buy, as well as explain how the application process works.