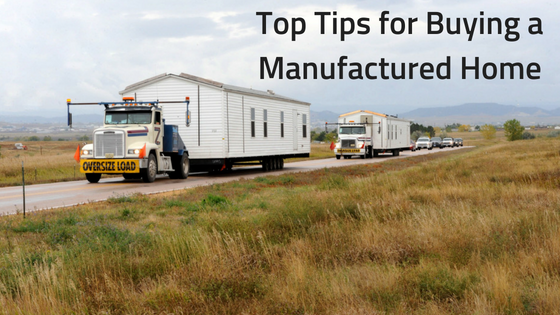 With all the stigma around manufactured homes, it can be really hard to cut through the misinformation and get down to the real details of what makes a great home. When it comes to buying a manufactured home, many aspects of the build quality are similar to those of a traditional home, but there are a few things you should be on the lookout for. Here are a few helpful hints:
Price is an Indication of Quality of Wants, not Structure
Unlike site-built homes that are often made to fit a certain price range for a particular neighborhood, each manufactured home is completely customized by the buyer. This means that pricing can vary widely, even for two homes that have the same square footage or layout. The price you're seeing, new or used, is a strong indicator of the types of materials used inside the home. You can get a four bedroom, three bath home with tons of living space for a relatively affordable price, but the carpet will begin to fray and the countertops will begin to peel before long, just like a site-built home. On the other hand, a much smaller home may be more expensive if the buyer opts for premium materials that are built to last, like quartz countertops. It is important to closely inspect the materials inside to determine whether or not the price of the home is justified. These are all steps you would take in buying a site built home, the only difference is that square footage doesn't play as big of a role like it does in a site-built home.
Verify Your Dealer
There are a lot of companies selling used and repossessed manufactured homes all over the place. Some of these companies are reputable, while others are known for being misleading. It is extremely important to vet your dealer before you buy to ensure that they will deliver the home on-time, complete the installation up to county codes, and provide warranty coverage when necessary. Also, communicate with your dealer by asking questions. How long will take to deliver my home once the financing is complete. Ask about their warranties, reputable dealers are more than happy to answer these questions and want to ensure your experience is a pleasant one. Making the right choice of dealer can have a long-lasting effect on how satisfied you are with the finished home.
Understand Financing Options
Manufactured homes are not typically financed using traditional mortgages unless they are already permanently attached to a piece of land. In general, they need to be financed using special loan products offered by lenders that work specifically with manufactured home dealers. More of these lenders are starting to offer loans that look similar to a mortgage in length and payment structure, but there are still some companies offering unique loan products that only apply to manufactured homes being purchased separately from the land. You will want to speak with a specialized lender well in advance to determine how much home you qualify for given the difference in qualifying factors for these homes.
All in all, buying a manufactured home can be done in less time than a traditional home purchase. However, you have to be willing to do your research and learn about the different dealers and types of homes in your area. Be prepared when you visit a manufactured home dealer by researching them and knowing what you want in your home and what you are willing to do without in case your wants are not within your budget. Example, you may want quartz countertops, but may have to settle for granite. Also, make sure you have a lender lined up who is familiar with the unique aspects of a manufactured home, like the professionals at Triad Financial Services, Inc.