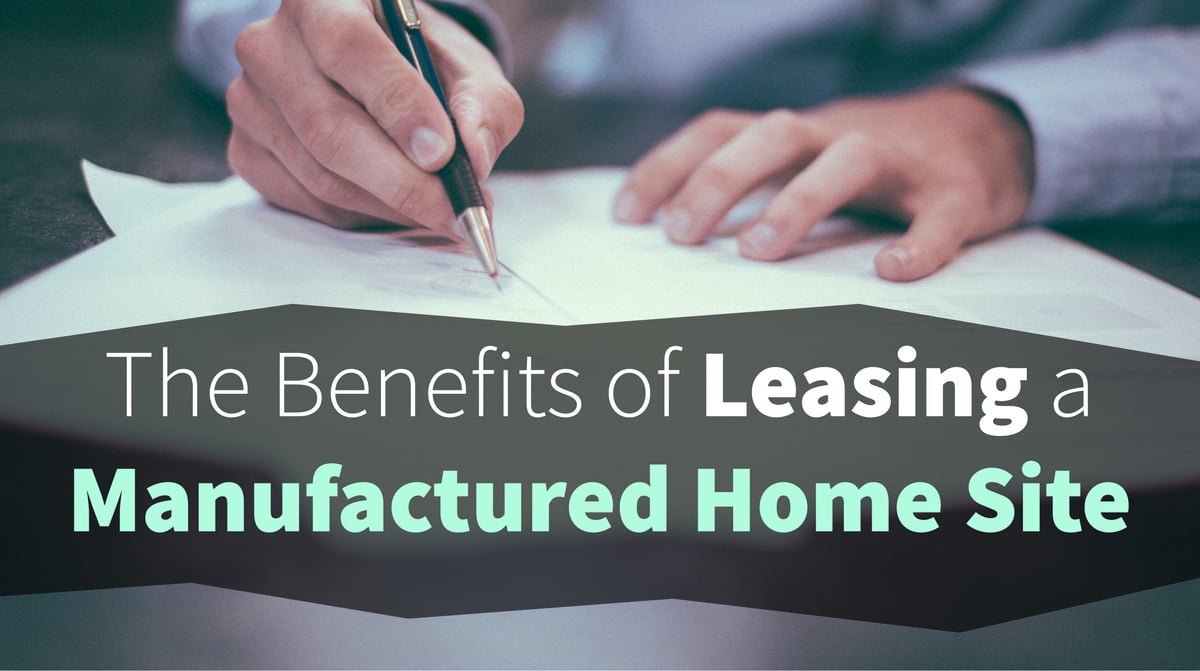 One of the biggest questions to be answered when looking into a manufactured home is determining whether or not to lease or purchase the land that the manufactured home sits on. There are some benefits to both, but oftentimes, leasing makes the most financial short-term sense. We have put together this guide on some of the pros of leasing, to help make the decision making easier.
Affordability
Most people think that leasing is something that costs more money in the long run, but in all actuality, it is incredibly affordable! Land leasings fees are often cheaper than home loan payments, and since the land is leased, property taxes do not apply. In a study done in * 2018, 76% of leasers said that it was affordable, with 48% living in communities. This indicates that even when a purchaser is renting the land and the home, it is still an affordable option that allows for financial peace of mind.
Management
A large perk of living on leased land is the management and assistance that comes with it. Manufactured home communities that allow for land leasing generally offer 24-hour support to those who live there with any kind of property concerns or maintenance issues. When the land is owned, a lot of these issues and burdens fall on the shoulders of you, the land owner. With leasing, there is always that assurance of help being given.
Control
Some may feel that leasing takes away some of the control of the home, especially for those that own their own manufactured home. However, in some ways, it gives even more control. Focus can be placed on the house, allowing for upkeep and modifications without needing to worry about upkeep or modification of the land, since that will be taken care of by the community or land owner.
Opportunity
Leasing is, generally, cheaper than purchasing. Because of this, it allows for bigger opportunities! This means that communities that may seem out of budget or unattainable become attainable because the lease will be more affordable than attempting to purchase a lot in that community. This is often more true in areas such as * Los Angeles or other cities like it, where most would think that they wouldn't be able to afford anything. But with the money saved from leasing, opportunities open up in a wider variety of areas than they would with the intention of purchasing.
Amenities
A big perk for leasing is the amenities. Community amenities vary from community to community, but the most frequently seen include clubhouses, pools and playgrounds. Sometimes there are even golf courses or tennis courts available! Those are amenities that would also be available to those who rent, but amenities that would be included for those who rent would be things like garbage pickup, lawn mowing, and sometimes even things like utilities will be built into the rent of the lot!
There are many benefits to leasing rather than owning, which is something that normally seems backwards! When it comes to leasing the land that a manufactured home sits on, there are so many potential extra benefits that wouldn't be available if the land was purchased, ranging from amenities like garbage pickup and lawn mowing to on-site management who will assist with any repairs. Leasing is affordable, and affordable in such a way that it allows for greater opportunity when it comes to living in places that may seem out of budget but end up being far more affordable than originally believed! Manufactured homes are a fantastic choice with plenty of their own benefits that are only increased by the benefits of leasing the land they reside on.
*Source: Manufactured Homes: Market Facts 2018 Report