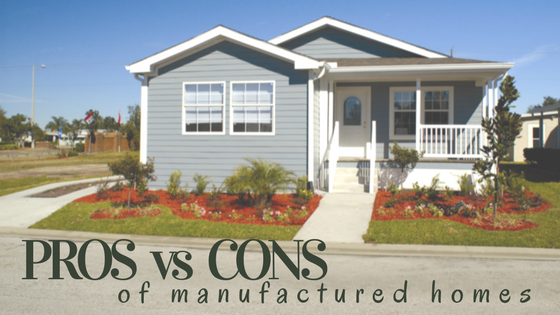 For many people, purchasing a home is one of the largest financial decisions they'll make in their lives. While the benefits of owning a home cannot be denied, the type of home selected can go a long way toward fulfilling homeownership dreams. To help would-be homeowners make an informed decision, in this post we'll go through the pros and cons of manufactured homes.
Key Advantages of Manufactured Homes
Affordability
Besides the fact that manufacturers purchase high volumes of materials, which lead to significant economies of scale, manufactured home components are made in controlled factory environments, being protected from damage and theft. These factors contribute to lower sales prices compared to site-built construction, turning manufactured homes into an affordable housing choice.
High Quality and Versatility
A manufactured home is "prefabricated" in a factory and then transported to the site. Although installing a manufactured home often involves significant completion at the site, many manufactured home builders have plenty of expertise and are well-regarded throughout the industry for delivering high-quality, durable manufactured homes, which are built in full compliance with the HUD standards for manufactured housing. Furthermore, the modern manufactured homes provide a wide variety of floor plans, features and customizations in terms of both functionality and aesthetics.
Advantageous manufactured home loan products
Since manufactured homes are less expensive than site-built houses, a home buyer needs a smaller loan in order to buy such a home. Nowadays, a series of manufactured home loan products, which come with terms and conditions similar to those of traditional mortgages, turn these homes into a "realistic", achievable housing alternative for many hard-working Americans. Not to mention that the owners of "qualified" manufactured homes can also deduct mortgage interest, buy-down points and property taxes as well as part of the cost of energy-efficient features and sales taxes.
Speed of Construction
Because the weather doesn't interfere with the production and assembly process, manufactured homes can be built faster than traditional site-built construction. Also, manufacturing and assembling similar units repeatedly gives more control over the production process, allowing manufacturers to speed up construction and cut costs.
Eco-friendliness
Being built from prefabricated components and following some well-structured, uniform assembly and installation plans, manufactured homes generate less construction waste. As well, compliance with HUD standards means that today's manufactured homes aren't only safe but also energy efficient.


Key Disadvantages of Manufactured Homes
Depreciation
When not maintained properly, manufactured homes depreciate, but so do site-built construction. According to MHI, a manufactured home that's properly installed and maintained can appreciate in value just like any other site-built home in the area. If the homeowner also owns the lot, continuously increasing land prices across the country are likely to positively affect the market value of the entire property.
Insufficient Financing Options
Although efforts have been made to extend the availability of affordable credit alternatives to more consumers, the lending market for manufactured homes remains concentrated among several lenders. While this can make it harder to get a manufactured home loan, a reliable and experienced manufactured home lender can offer a variety of financing alternatives that meet the financial goals of most applicants.
In the end, purchasing a manufactured home is similar to buying any other type of home. The best decision always depends on the needs and personal situation of each potential buyer.