A Pet-friendly manufactured home community brings along multiple advantages, ranging from attracting a broader pool of qualified rental prospects to enjoying longer tenancies.
On the downside, renting community owned homes and home lots to tenants with pets could lead to a series of problems, such as excessive barking, howling or whining that can be disturbing or annoying to neighbors, damage to the rented property, furnishings and personal property of other tenants, and even dog attacks.
If you're a manufactured home community owner, it's fully understandable that you want to minimize the risk of potential pet-related conflicts, damage and injuries. How can you do that?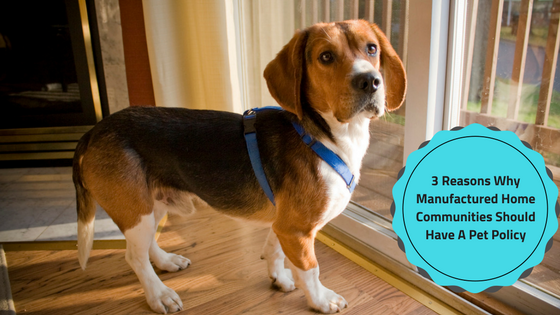 Besides providing manufactured home community rentals insurance through lease agreements, crafting a clear and comprehensive pet policy allows you to outline the conditions under which tenants may keep pets on the rented property. Here are three ways in which having such a policy can help.
Limit the Types and Numbers of Pets
By incorporating a pet policy in lease agreements, manufactured home communities can place restrictions on the types and numbers of pets allowed. For instance, a manufactured home community can set limits on the size and weight of pets, or specify that a tenant cannot have more than one dog or one cat. Also, a clause can be included to make it clear that all the animals must be approved by the community operator and that the residents aren't allowed to take in animals from their families or friends without approval. Remember, special accommodations may need to be made in your pet policy for service animals.
Prevent Potential Complaints and Damages
Potential property damage to community owned rental homes is the main reason some manufactured home communities don't allow pets. Since animals can cause different types of damage, community owners can use a pet policy to define what exactly constitutes damage to the rented property and the personal belongings of other residents.
Antisocial and aggressive behavior potentially followed by attacks represents another major concern for the owners of pet-friendly manufactured home communities. But a pet policy can come to the rescue in this case as well, specifying the consequences of aggressive pet behavior and attacks.
Additionally, manufactured home communities can use pet policies to indicate under what circumstances a tenant must vacate the rented property. As an example, the failure of a renter to comply with the identification, licensing and vaccination requirements, as outlined by state law and included in the lease agreement, can be considered a breach of contract. In this case, the manufactured home community operator can legally terminate the tenancy and evict the tenant. (Contact legal representation for laws in your state for specifics.)
Define the Responsibilities of Pet Owners
A pet policy can also require the residents with pets not to leave them unsupervised for long periods of time. The residents who have pets should also agree to keep them in properly contained areas when left outdoors and always clean up after them.
Given that a pet policy can help renters better understand what they need to do in order to enjoy the privilege of bringing their cute companions into their rented homes, the advantages of implementing such a policy cannot be denied.
However, it's equally important to opt for a manufactured home renters insurance program that can protect both the community owners and residents against losses potentially arising from accidental damage to rental units, furnishings and tenant's personal property, personal liability claims, and pet-related claims.
At Triad Financial Services, we know how difficult it is to find the right insurance plan for a manufactured home community. For this reason, we are here to assist you with your unique insurance needs. To learn more about our insurance programs, please feel free to contact our insurance specialists at 844-375-7224.