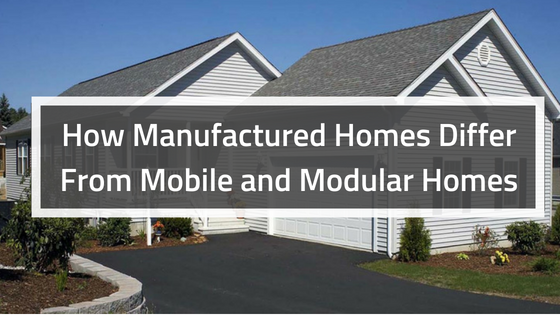 Pre-built homes are quickly emerging as a solid housing alternative to traditionally constructed homes. Purchasing a manufactured or pre-built home is becoming an option that will help consumers realize their dream of home ownership without the prohibitive cost of traditional homes that are built onsite.
Once you have made the decision to purchase a home that isn't site-built, it can be easy to get bogged down in the terminology of non-traditional housing options. When you're opting for a pre-built home, you have the options of manufactured, mobile, and modular homes. But what are the differences between these types of homes? In this article, we'll cover some of the major differences between manufactured, mobile, and modular homes.
Construction Methods
The major difference between manufactured, mobile, and modular homes is the way that they are constructed.
Manufactured homes are completely constructed in a factory and then transported to the home site. Once they arrive at their destinations, they are indistinguishable from site-built homes. They are not usually moved again. This allows the entire process, start to finish, to be overseen with consistency and accuracy, which cuts down on many of the delays and disruptions in traditionally built homes. They are built according to federal construction codes from Housing and Urban Development (HUD).
Modular homes are also built in factories, but are governed by local state building codes (although sometimes states will adopt the federal code). Modular homes are either built on a permanent chassis or on a temporary one. Homes built on a permanent chassis are referred to as being "on-frame" and those built on temporary ones are referred to as "off-frame." Whether a home is built on- or off-frame will affect how the home is assembled at its destination site.
Mobile homes are any manufactured home built prior to June 15, 1976. They are now obsolete due to HUD policy changes in 1976. They have since been replaced by modern manufactured homes.
Home Design and Options
When looking at purchasing a manufactured home versus a modular home, most of the changes are structural. Both manufactured and modular homes have come a long way in recent years in regards to home design options.
There are plenty of cosmetic and design options available, depending on the financing options and particular building company a buyer chooses. Homebuyers can choose from a wide array of building options, including exterior building materials and cosmetic features. Because one factory is responsible for the construction from start to finish, consumers have more options to customize a manufactured or even modular home. Modern manufactured and modular homes are nearly indistinguishable to site built homes now.
Safety
One of the most common concerns for homebuyers looking at manufactured and modular homes is safety. Both of these home options are constructed offsite and that can lead many to distrust the safety of these homes. However, these fears are unfounded. There is no significant difference between the safety of homes built on or off site.
Manufactured homes are produced according to the Federal Housing and Urban Development (HUD) safety standards. These unified national safety standards help make sure that manufactured homes are as safe as site-built homes.
Manufactured homes are built in one controlled environment and then transported to the home site. Red certification labels from HUD are affixed to the exterior.
Modular homes are constructed according to local and state safety regulations based on the destination site. Sometimes these are the same standards as the HUD standards, as somes states adopt the federal code. Each state and governing authority has its own safety certification that is attached to modular homes.
Both modular and manufactured homes are further inspected upon installation at their sites to ensure complete safety for the home occupants.
Cost
Manufactured and modular are all significantly more affordable than site-built homes. The primary reason that these homes are constructed in one place is that it allows for controlled production costs. They are constructed inside a factory and therefore are also typically constructed in a fraction of the amount of time a site-built home is. There are fewer delays and unforeseen costs. The savings on construction costs are passed on to the consumer. This allows many consumers the chance at home ownership that otherwise they wouldn't have.
Manufactured, Mobile, or Modular: Choosing the best option for you
While the options for pre-built homes have come a long way in all categories, manufactured homes as well as modular homes have several clear advantages.
Manufactured homes and Modular homes have:
Design customization options available for consumers

The safety advantage of being inspected and constructed in one place, with consistency and efficiency

The low cost associated with being built off-site
All of these reasons are why manufactured homes are emerging as a great option for new homeowners.