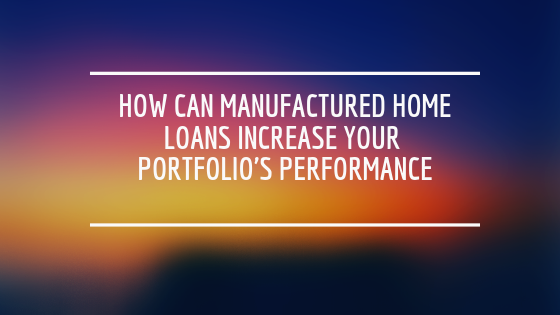 As a credit union, it is your responsibility to make sound investments w
ith your member's money. That means expanding your portfolio and finding new areas where you can improve the strength of your existing investments through complimentary products. Manufactured home loans present exactly this type of opportunity by giving you access to a fast-growing marketplace with strong returns. Here are a few ways that manufactured home loans can increase your portfolio performance.
Reaching an Underserved Part of the Market
One benefit of adding manufactured home loans to your portfolio is that they are in such high demand right now. For many years, this sector of the housing market has largely been neglected due to stringent rules created by traditional lenders. Nevertheless, consumers continue to demand more support for buying manufactured homes today, and those lenders who do service this market are seeing incredible growth.
Higher Rate of Return
There is also something to be said about the rate of return on manufactured home loans. While mortgage rates have fallen and stayed low for many years, manufactured home loans come at a significantly higher interest rate due to the fact that they are not traditional real estate. This has not stopped consumers from buying, but it does present an opportunity for you to earn a return that is two to three times higher on your investment than you would with a conventional loan product.
Increasing Safe Loan Options
In some areas, consumers have found ways to work around the lack of financing options by taking out predatory loans to afford a home. Oftentimes this can lead to disaster with repossessions and bankruptcies on the horizon. As a credit union, you have a unique opportunity to partner with a trusted lender who offers safe and sane financing options for buyers of all kinds. The more we work together to help people find financing that is a good fit, the more money stays in circulation for everybody. You can be part of a system that actively reduces the risks involved with buying a manufactured home for consumers.
Diversifying Your Portfolio
It goes without saying that you should never put all of your eggs in one basket. By adding manufactured home loans to your portfolio, you will be gaining a bit of diversity that can protect you against unpredictable market conditions. In recent years, as our economy has recovered from the housing crash, we have seen an increase in demand for manufactured homes. This is likely because the costs associated with these homes are typically lower than traditional houses. In the future, if we are to see another round of economic instability, it is likely that manufactured homes will once more become a key to survival in the market. This added diversity is relatively low risk in both the short and long term. It will give you yet another tool in your toolbox so that your investors will know that they have a well-rounded investment portfolio working for them.
These are just a few of the major ways that manufactured home loans are an important part of your credit union investment portfolio. If you are currently working with only lenders who service conventional loans, you could be missing out on a huge opportunity to earn higher returns and pad your portfolio. There are many great reasons that manufactured home loans are on the rise, and now is the best time to get in on the opportunity while it is still trending upwards. For more information about adding manufactured home loans to your investment portfolio, contact Triad Financial Services today. Our team knows the ins and outs of the manufactured home industry and we can guide you to your first investment.