Financing Your Dream Manufactured Home
September 1, 2023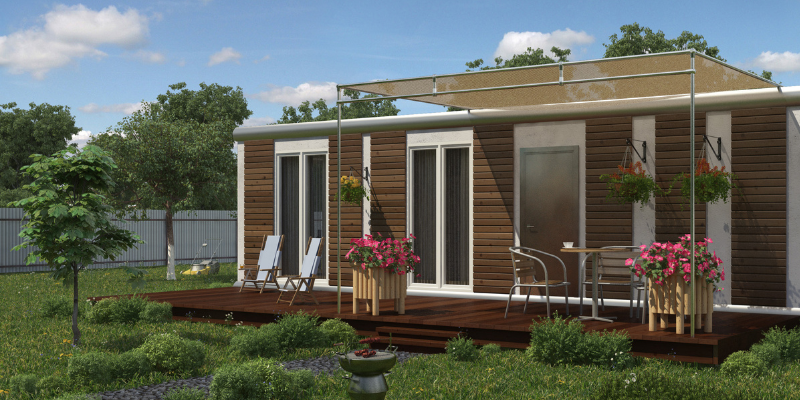 Thinking about making your dream of owning a manufactured home a reality? If you answered yes, you're in good company. The appeal of manufactured homes is on the rise, and many are exploring the many financing options available. Navigating the world of manufactured home lending can be puzzling, but don't let this scare you away – we've prepared this guide to demystify the manufactured home financing process. Get ready to learn more about manufactured home financing which will help empower you to make more informed choices and potentially secure favorable rates, and bring your homeownership aspirations to life.
Manufactured Homes and the Power of Financing
Manufactured homes are a popular choice for many homebuyers, offering affordability and flexibility. And financing plays a crucial role in making homeownership dreams a reality. Whether you're a first-time buyer or looking to upgrade, understanding the ins and outs of financing your manufactured home can help you navigate the process and find the best options for your new home.
So, what are manufactured homes? They are prefabricated structures that are built in factories and then transported to your chosen location. Manufactured homes present a unique option for those in search of budget-friendly and customizable housing solutions. Now, why is financing critical? Imagine affording your dream home without the need for a giant upfront payment. For most homeowners, paying for their home in full is not a realistic option. This is where financing comes in, allowing you to spread the costs out over time for more manageable monthly installments. This is what transforms those dreams of homeownership into a tangible reality.
Exploring Manufactured Home Financing Options
When it comes to financing your manufactured home, options are important. First there's land and home loans, that allow you to bundle the purchase of land and your manufactured home. Then there are chattel loans a bespoke solution for manufactured homes in which the home itself is considered personal property. Each option has its perks and quirks, and it's up to you to understand each and choose the one that fits your unique needs.
Land and Home Loans
Land and Home Loans can be a great option for those looking to finance a manufactured home that is attached to land which you purchase and roll into the home loan. One of the main advantages of these loans is that they may have lower interest rates and longer terms compared to other financing options. This may result in more affordable monthly payments and overall lower costs over the life of the loan.
However, it is important to note that qualifying for a Land and Home Loan can be more challenging compared to other financing options. Lenders typically have stricter requirements, including a higher credit score and a larger down payment. The down payment requirements may range from 5% to 35% of the purchase price, depending on the lender and your creditworthiness. Though this down payment may be in the form of cash, trade, or land-in-lieu of cash.
Chattel Loans
Now, let's talk about chattel loans. These loans are designed for manufactured homes, because unlike traditional homes and mortgages, chattel loans consider your home as personal property, not real estate. Chattel loans may simplify your path to financing your manufactured home. Working with an experienced manufactured home lender like Triad Financial Services, Inc. can provide valuable guidance and help borrowers find the most favorable loan terms. As with any loan borrowers should carefully consider their budget and financial goals before committing to a loan product.
One major advantage of chattel loans, as previously mentioned, is that they can be easier to qualify for, especially for individuals with lower credit scores, experience, or limited financial resources. The application process can be easier to navigate. The approval process is generally faster as well. But remember, these perks may come at a cost. Chattel loans may come with slightly higher interest rates and shorter terms due to their unique nature. Additionally, not all lenders offer financing products for manufactured homes, so dig deep to find a loan product and terms that work for you.
The Manufactured Home Loan Journey
Ready to take the next steps in securing financing for your manufactured home? In this section, we'll walk you through the qualifications and requirements you'll need to meet in order to be eligible for a manufactured home loan. From credit scores to income documentation, we'll walk you through it. By the end of this section, you'll have a clearer understanding of what lenders are looking for and how to position yourself for success in obtaining financing for your dream home. Let's get started!
Preparation is Key: Review your budget, save for that down payment, and fine-tune your credit score. The strategy? Look around, compare manufactured home loan programs, and arm yourself with knowledge. Beef up your credit score, take care of any lingering debts, and consider the benefit of saving for a larger down payment as this may help to lower your interest rate.
Application: Fill out that loan application. Be prepared to provide several documents that will aid in the review of your application. Lenders will want to see proof of income, assets, and liabilities. They will also review your credit report and may require a home inspection. It is important to work with a lender, like Triad Financial Services, Inc. who specializes in manufactured home loans as they will have the expertise to help you navigate the application process.
Documents & Conditions: You'll provide documents that prove your income, employment, residency, and identity. These documents help your loan processor assess your application and determine your eligibility for a manufactured home loan. Examples of documents you may need to provide include pay stubs, tax returns, bank statements, W-2 forms, proof of residency, and identification. It's important to gather all the necessary documents and submit them in a timely manner to ensure a smooth loan application process. Make sure to review the requirements and conditions set by your lender to avoid any delays or complications.
Loan Origination & Underwriting: After you receive initial approval from your underwriter or Mortgage Loan Originator your rate will be locked in and your loan will move through origination and underwriting, and prepare for your closing.
Underwriter/MLO would and all rates are locked at approval. we do not float rates.
Closing: Once your loan is clear to close, you'll know you are approaching the finish line. During this process, you'll need to protect your investment by securing homeowner's insurance, sign all the necessary documents and complete any remaining requirements. It's important to carefully review all the documents and ask any questions you may have before signing. This is your opportunity to make sure everything is in order and that you fully understand the terms of your loan. After all the documents are signed and the closing is complete, you'll officially become the owner of your manufactured home.
Post-Closing: Even after you close on your loan and you get the keys to your new manufactured home there are tasks to be done. Then, review and familiarize yourself with your repayment plan to ensure you make your payments on time. Finally, it's important to stay on top of your financial responsibilities to maintain your good credit history.
Qualifying for a manufactured home loan is a detailed process but with proper preparation and an experienced and reputable lender, like Triad Financial Services, it can be a successful journey, one that leads you down the path to achieving your dreams of homeownership.