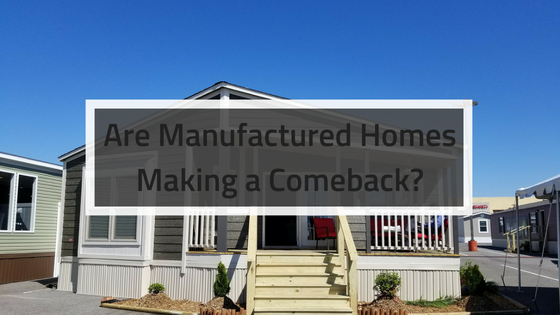 Manufactured homes have always held a certain spot in the real estate industry, in the past it was often viewed as a last resort for those with limited income. However, major changes in the manufacturing home industry have boosted their popularity in recent years, and now they are making a strong comeback. Here's what you should be keeping an eye on as we head into the next big phase of housing development in the United States.
More Modern Designs
In the past, manufactured homes tended to stick out like sore thumbs in communities because it was very obvious that they had been fabricated and dropped in place. Today, manufactured homes are being held to a higher standard of construction thanks to improvements in quality and materials available. Now, it is not uncommon to see manufactured homes that are made to look just like traditional construction with the help of brick or stone veneer skirting and other refinements. This has boosted the long-term value of these homes and made them more acceptable in mixed neighborhoods.
Affordability
Amid the current housing shortage in many places throughout the U.S., manufactured homes also offer a quick solution to boost housing availability at an affordable price. With previous generations, it was common for college graduates to take a job and buy a house right away. The current rising generation is burdened with more student loans than ever before and has less available income for purchasing a house. As a result, they have turned to manufactured homes as a chance to own something personally while staying within their budget. While some high-end manufactured homes can cost just as much as traditional construction, there are many programs available to help low-income families get into a manufactured home. In addition, a brand new manufactured home costs far less to customize than purchasing a lot in a traditional neighborhood and engaging one of the major builders in the area.
Also on the subject of affordability is the number of loan programs that are currently available for manufactured homes. In the past, only a handful of lenders would deal with manufactured homes at all. Today, more banks and credit unions are starting to get involved as the overall value of these homes have increased and they have become a safer investment. This has opened up more opportunities for buyers who need a loan to get the deal they want.
Environmental Consciousness
Among the rising generation is also a shifting focus on environmental friendliness and sustainability. There is a growing awareness of the impact of certain construction projects in some areas. Manufactured homes can be made using renewable resources alone, meaning that they have minimal impact on the environment during production and placement. These materials are also made to last longer so they require less maintenance over the long haul.
Tiny Homes and the Manufactured Home Industry
There is also a certain amount of positive energy coming from the tiny home community. Tiny homes are being touted as a cost-effective and simple way to enjoy a private space without going overboard. Many people like the idea of a tiny home because it is low-maintenance and allows you to spend more of your money on experiences. For Millenials who are not having kids as young, a tiny home makes perfect sense. Naturally, the best way to have a tiny house is to buy something that has been pre-fabricated. In addition, fans of tiny homes are often part of communities who place many tiny homes together to form a small social circle. These communities tend to center around a common project such as a community garden or something similar. Manufactured home companies are working hard to keep up with demand for smaller homes that are being requested by these groups.
These are all reasons that the manufactured home industry is booming right now. It is expected to keep growing as more
millenials
start their careers and begin to stabilize into home buying. It is also believed that tiny home demand as well as manufactured home communities will continue to grow for the forseeable future as municipalities invite these types of communities into their areas.