The banks and credit unions that offer manufactured home loans know that the overhead costs and risks involved in originating and servicing these financing solutions are often hidden, but can be substantial.
The secret to reducing costs and minimizing risks consists in transforming your operating model. Although every financial institution's approach will differ, below are several ideas you can implement to achieve your institution's goals.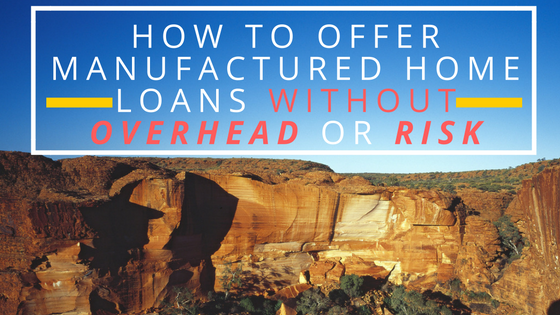 Driving Efficiency through Outsourcing
Outsourcing your manufactured home loan services is a smart way to lower operational and labor costs, while helping your employees feel less overwhelmed and be more productive.
By outsourcing applicant screening, loan processing and settlement, customer communication, payment collection, cash management and loan portfolio performance monitoring to an experienced loan origination and servicing company, like Triad Financial Services, your institution will benefit from standardized end-to-end processes, consolidated resources and a significant reduction in loan origination cycle time.
Besides allowing your institution to offer manufactured home loans with fewer drawbacks, outsourcing makes it possible to devote more time and attention to core competencies, such as revenue-generating activities, investment management and customer service.
Reducing Portfolio Risk through Strategic Partnerships
For a financial institution to offer manufactured home loans, it needs to add new asset classes to its portfolio. On the downside, each additional asset class brings along a series of risks that might manifest themselves under certain circumstances, requiring more conscious efforts to mitigate them.
In general, there are three main categories of risks a manufactured home lender might face.
Market Risks – Market risks are subject to certain changes relating to the manufactured home lending sector, such as home inventory shortages, rising home prices and interest rate fluctuations.
Liquidity Risks – Financial experts confirm that liquidity risks typically arise when a financial institution is unable to meet its financial obligations in accordance with previously agreed terms.
Operational Risks – Operational risks are often the result of insufficient or inaccurate information about customers and possible human or system errors.
Although the FHFA's new "Duty to Serve" rule establishes a supportive environment for the lenders who intend to offer manufactured home loans, a favorable environment isn't enough for a loan portfolio to evolve positively.
In a previous article, we showed that one way to reduce the risks inherent in loan portfolios is to implement the right diversification strategies. However, cautious lenders usually consider another essential point; namely, risk sharing.
Therefore, one of the best ways to reduce and even eliminate certain loan portfolio risks is to select a responsible and reputable partner who provides low-risk, high-yield investment opportunities and has all the "tools" necessary to help you improve your risk assessment and management skills. As an example, Triad Financial Services can assist you in addressing your loan portfolio risks, including the risk of default, by:
Providing precise, up-to-date and sufficient information about the manufactured home lending sector and industry regulations;
Helping you plan accurately the volume of manufactured home loans you should approve and disburse, in conjunction with cashflows and particular fund requirements;
Considering your own lending criteria and underwriting guidelines when screening applicants;
Using strict internal controls that deliver an efficient risk monitoring and management framework.
Unlike other lenders who offer manufactured home loans, Triad Financial Services provides a full range of products and services along with in-depth industry expertise and unparalleled outsourcing capabilities. By partnering with us, your organization can use all these to right-size its operations, maximize profit margins and deliver first-class service to all of its customers.