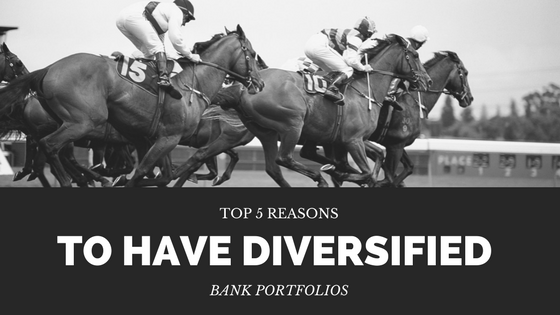 Trying to predict with certainty which loan programs will prosper in the long run can be very difficult, if not impossible. It is for this reason a bank that wants to increase its loan portfolio profitability needs to practice the art of asset allocation. Here are five reasons why diversified bank portfolios are important.
1. Diversified bank portfolios can help avoid excessive risk concentration.
A widely accepted theory among financial experts is that lending risks must be managed at both the borrower and portfolio levels. Since different types of loans react differently to certain market conditions, the performance of some loan products will be balanced by other loans that perform better during that same period of time.
This basically means that well diversified bank portfolios can remain strong even when certain loan programs start to perform badly, keeping the probability of failure at a tolerably low level.
2. Diversified portfolios respond better to changing market conditions.
Portfolio diversification means more than just having different loan products. To achieve superior diversification, a bank should opt for loan products that respond positively to various economic events.
For example, diversified bank portfolios that include asset classes with various risk and return characteristics, such as small business loans, personal loans, home equity loans, home equity lines of credit, auto loans, conventional mortgages and manufactured home loans, are less susceptible to market volatility and less likely to experience a significant loss due to adverse market conditions.
3. Diversified bank portfolios can deliver significant returns.
A higher rate of return is among the benefits a diversified portfolio can deliver. A portfolio diversification strategy that allocates resources across a broad spectrum of asset classes—including less traditional loan products, like manufactured home loans—will ultimately create long-term wealth for a bank or credit union.
4. Diversified bank portfolios enable banks to meet their financial objectives.
Using diversification, banks can customize their investment strategies and match their portfolios to specific risk tolerances. To limit exposure to market volatility, for instance, a bank with a low risk tolerance can opt for low-risk, high-yield and high-performing loan products like manufactured home loans provided by an experienced and reputable loan origination and servicing company.
As an example, a few highlights of our manufactured home loan programs include:
- borrower profiles with an average FICO score of 700+;
- Triad-funded cash reserves held at the financial institutions that partner with us.
5. Pursuing diversification can lead to successful partnerships.
Some investors may not feel comfortable investing in a new asset class because they lack experience in that particular area. As a result, they continue to invest in loan products they're most comfortable with, ending up with concentrated loan portfolios.
Although a financial institution which intends to expand into the manufacture home lending market might consider that certain risks could lead to lower profitability, opting for loan programs provided by a reputable and reliable indirect lender with plenty of experience in this sector allows a bank or credit union to indirectly benefit from extensive expertise in applicant screening, loan underwriting, customer communication, payment collection, portfolio performance and compliance monitoring.
As it can be seen, diversification is a useful tool for reducing portfolio volatility and managing risks without sacrificing returns. However, a significant percentage of portfolio performance is driven by asset allocation decisions. To minimize the "ups and downs" associated with loan portfolios, loan products must be strategically combined in varying proportions within customized, diversified bank portfolios, while considering the long-term investment objectives of each financial institution.
To learn how Triad Financial Services can assist you with your bank's loan portfolio, contact us at (800) 522-2013.