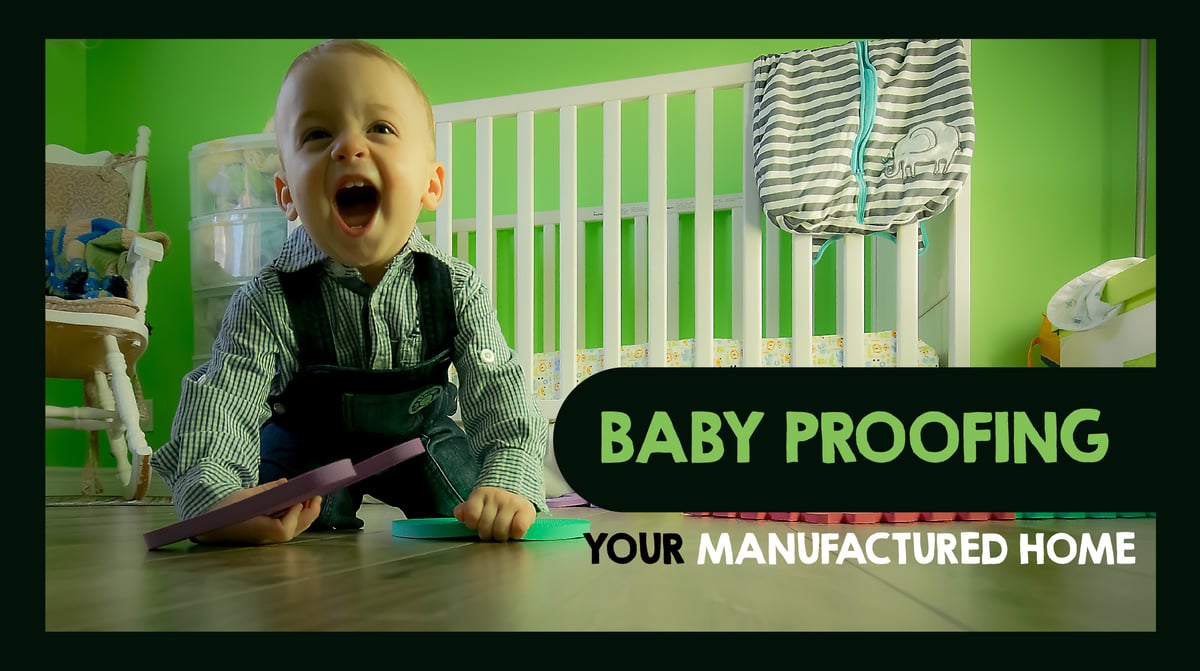 Baby proofing is an essential part of preparing for a child. It is something that can be exciting, but also stressful! The thought of missing something and an accident happening can be scary and overwhelming, which is something that anyone can relate to! In order to try and ease some of the worry and pressure, Triad executed some research with help from other sources and has compiled a baby proofing guide perfect for the manufactured home.
Outlets
Outlets are amazing. They are an essential part of modern life, and often, they are used every single day! When it comes to having curious children around, though, it can be a very dangerous thing. Outlets within reach of little arms create a risk for internal injuries from electric shock. The best way to prevent any potential accidents is to place outlet protectors into any unused outlet, no matter how safe or removed from a child they may seem. Any outlets with appliances plugged into them should be secured by ensuring any cabling is tucked out of reach, or, if that's not an option, taped down or covered. Some manufactured homes, especially older ones, have limited outlets. Even newer manufactured homes, just like any site built home, may not have a perfectly placed outlet resulting in the use of power strips. Power strips are great - but ensuring that they are properly secured to the floor or hidden behind furniture is the best way to keep them from becoming a hazard to any wandering children. Outlets in bathrooms should be covered at all times except for when they're in use to prevent any water related accidents from making injuries worse!
Electronics
Electronics are another every day staple, and while their cable management and setup around outlets is something that is important to pay attention to, that isn't the only hazard. TVs should be carefully mounted or setup on stands in a secure way that will prevent them from being pulled down or toppled over by being tugged on in any way. Gaming systems or cable boxes should also be mounted or tied down to limit how much they can be moved or shifted from their original spot. Not only are the cables a danger, but batteries from remotes are not only toxic, they're also a huge choking hazard. Keep remotes out of reach on top of a cabinet or stand where they can only be accessed by adults.
Cabinets and Furniture
When babies start to explore their surroundings, they are incredibly thorough. Digging through cabinets and trying their best to scale bookshelves is something that almost every child has done at least once! To prevent any accidental injuries in their exploration, make sure that furniture such as bookshelves or tall dressers are secured to the wall that they are up against. This will help prevent any kind of accident resulting from the furniture falling over. It is also good to pad or cover any hard or sharp corners to prevent against bumps and bruises as babies learn their environment.
Cabinets are perfect for storage, but they are also one of the first places that kids will look for new things to play with! Locking cabinets with hazardous materials may seem like a given, but Crystal Adkins, who put together a different blog on child proofing manufactured homes even suggests locking all cabinets, not just the ones with dangerous chemicals or objects hidden behind them to limit a baby's interaction with anything that they could use to make a mess, or anything that could be a choking hazard.
Bathrooms
Bathrooms often contain more medication and potentially dangerous objects than any other room in the house! Toilet locks are important, not only to keep your inquisitive child from getting covered in germs, but also to keep them safe from any situation where they may get stuck and not be able to ask for help. Trash should be stowed in a cabinet with a lock, if at all possible, to keep any discarded personal items or thrown out razor blades from making their way into vulnerable hands.
Baby proofing is not something that can be done in a day! Since every baby is different, there will always be new things that become a hazard and need to be proofed, but the above steps are a fantastic starting point to ensuring the safety of any child that comes into your home. For more ideas on just about everything you can think of to prepare you for a new baby, check out this comprehensive checklist.