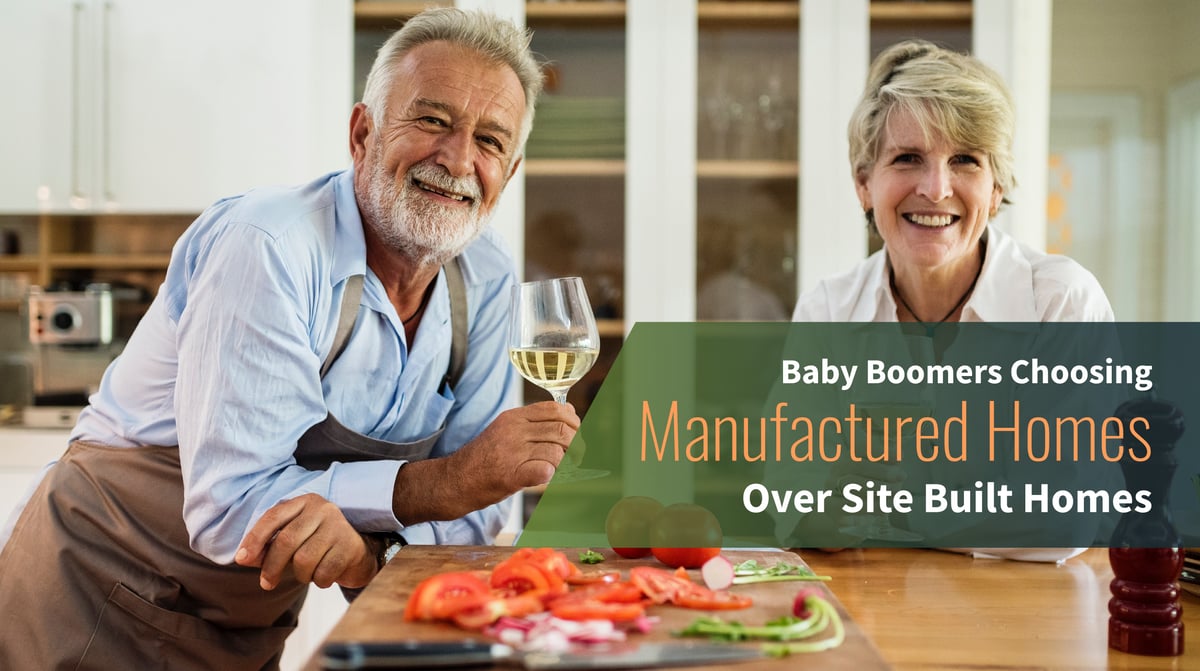 As the baby boomers are starting to reach retirement age, they are beginning to rethink which type of home best suits their needs. In the past, site built homes were the most popular. Now with the focus on downsizing and financial security, baby boomers are looking more toward the convenience of manufactured homes. Baby boomers have experienced all of the challenges of the past few decades and are now ready to simplify their lives on almost every level.
Downsize
Most baby boomers are cleaning out the nest after the last of their kids finally headed out on their own. If they are looking to build a home, the goal is more than likely to downsize and eliminate the time and effort it takes to clean and maintain a large home and yard. As they start to hit their retirement years, it's time to start enjoying life. Manufactured housing makes downsizing easy while still providing an ideal living environment. For those who are building a vacation home, manufactured housing offers everything they need without the time and effort that has to go into a site-built home.
Comfort and Design
Manufactured houses are designed with comfort in mind. They are easily customized to provide you with everything you are looking for in a new home. Quality workmanship and construction are top priorities as well as using high-grade materials. Manufactured homes offer a variety of finishing options so that you can be proud of your new home.
Convenience
Manufactured homes easily fit into almost any environment. You can build within land-lease communities for 55 years and older or you can choose a plot of land close to family and friends. The convenience of being allowed to build almost anywhere makes finding the perfect spot for your home much easier. Many communities are built close to shopping areas and parks so you don't have to worry about traveling far to buy the things you need.
Cost-Effective
Another reason that baby boomers are so interested in manufactured homes versus site-built homes is the cost. Many manufactured homes cost about half as much as a comparable site-built home. They are easy to finance and also economic in terms of long-term maintenance. When you break down the cost of living in a manufactured home, in most instances, the overall cost is cheaper than if you would rent a similar sized property.
More Amenities
Manufactured homes can be designed to your specifications. This means a more comfortable design for you and more amenities at a better price. While site-built houses can be designed to include many of the more popular amenities, this often comes at a much higher cost. From garden tubs to walk-in closets and kitchen islands with additional storage space, manufactured homes can provide a wide array of amenities at a much lower cost.
Aging in Place
Another benefit of manufactured housing that is great for baby boomers is - being able to "age in place". People want to stay in their homes for as long as possible. They want to live in a home that is capable of allowing them that luxury. With manufactured homes, there are no steep stairways. Hallways and doorways are wide enough to allow for a wheelchair or walker to get through. Individuals who spend the money on a manufactured home can live out their days without having to worry about moving somewhere "safer".
Baby boomers are putting themselves first when it comes to deciding what's best for them. As they approach retirement, they are preparing themselves for an easier, more comfortable lifestyle. Part of that comfort involves owning a new home that has everything they want and need without breaking their budget. Manufactured housing offers them everything they are looking for at an affordable price as well as the beauty and style they can be proud of.