How factory-built homes could move the needle on affordability
September 14, 2023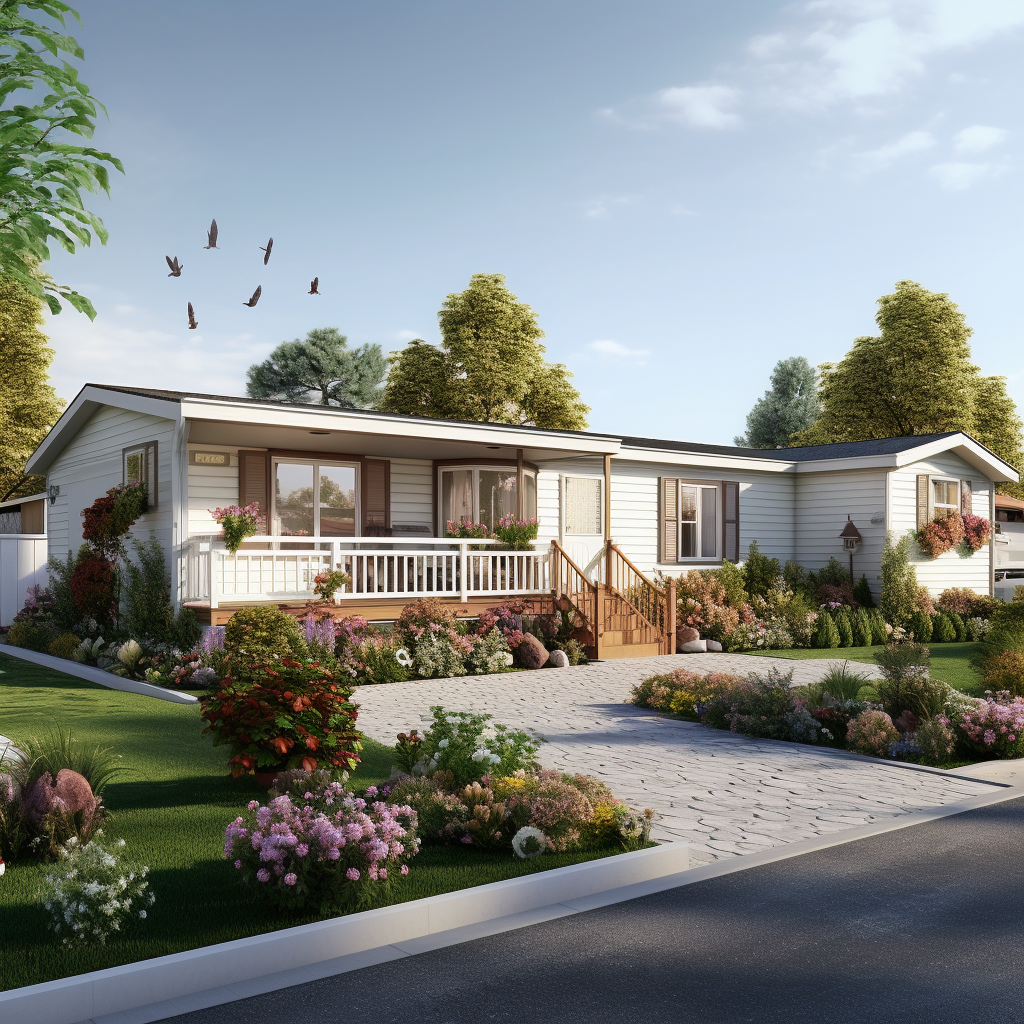 Read Original Story Here: https://www.nationalmortgagenews.com/list/how-factory-built-homes-could-move-the-needle-on-affordability
By Spencer Lee, Reporter, National Mortgage News
Stacey Epperson first saw the possibility that manufactured housing held as a sustainable homeownership solution several years ago when working in a job that sent her to families in Appalachian Kentucky.

"Their manufactured homes were old. They were in bad repair, but they still owed money for them. They had loans on them. I thought that was a problem," she said.

"I thought a simple solution was to really do the home really well — really high quality — educate the consumer and get them into a good loan. Just kind of like normal housing," she said.

"And maybe they wouldn't fall apart around them before they paid it off."

Her search for a solution eventually led to the launch of Next Step Networks, a Louisville, Kentucky-based nonprofit Epperson leads today as president and CEO. The organization aims to educate consumers and stakeholders in the housing and lending industries about prefabricated, factory-built homes while showcasing their potential as a viable source of affordable homeownership.

Many in the housing industry, like Epperson, similarly think modern prefabricated constructions represent a prime opportunity to alleviate affordability and inventory challenges the U.S. is currently facing. But obstacles, ranging from manufactured housing's past reputation of poor quality to current zoning regulations, still stand in the way.

With the U.S. experiencing a supply gap of between three to five million homes by most estimates, though, it won't come close to closing it without prefabricated construction, Epperson said. "It's got to be part of the solution."

While manufactured units have been dogged in the past with the perception of shoddiness, often because of its early association with mobile homes, a window for growth is emerging as consumer sentiment shifts, thanks to improved design and construction standards.

"I think the deficiencies of the old manufactured housing or mobile homes was — the code was very low. The standards were low. Those standards have gone up," Mike Loftin, CEO of Homewise, a New Mexico-based nonprofit enterprise helping state residents achieve homeownership.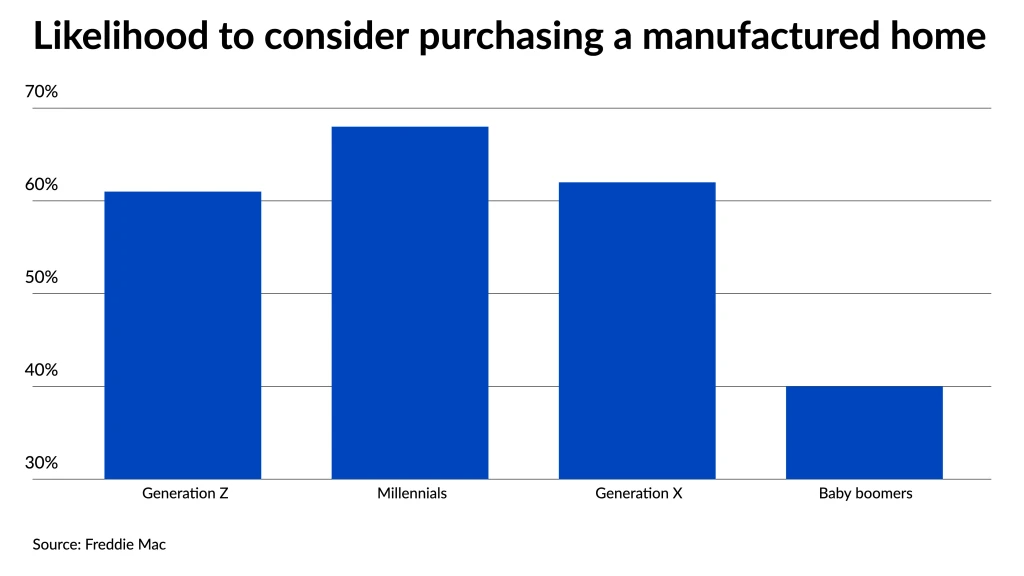 Recent data shows a majority of consumers open to the idea of living in a manufactured home. In research conducted by Freddie Mac in 2022, approximately 62% of people said they would likely consider the purchase of prefabricated housing in the future, with the share skewing higher among younger populations. Whereas only 40% of baby boomers indicated they would entertain the thought of purchasing manufactured housing, the percentage grew to over 60% among all other age groups.

In a sign of the expected role factory-built homes can play in creating more affordability, the Department of Housing and Urban Development actively boosted its support for the effort in 2023. In June, HUD introduced a new independent office of manufactured housing programs, which falls directly under the jurisdiction of Federal Housing Administration Commissioner Julia Gordon.
Modular units: not your parents' mobile home
When manufactured homes are brought up today, increasingly, the conversation turns to modern modular designs, a major focus in Next Step's efforts to develop affordable opportunities. Built in individual rectangular modules at factories in compliance with local codes before being transported and assembled at the site location, interest in these homes is growing, in part because of their environmentally-friendly method of construction.

"There's incredible efficiencies you obtain inside an environmentally controlled setting. You don't have delays with workers and materials. You set jigs that can cut things precisely," said David Battany, executive vice president of capital markets at Guild Mortgage, in a panel at the 2023 Mortgage Bankers Association's Secondary Markets conference in May.

Reduced labor costs also come into play, particularly in areas of the country where it is expensive to build, like the Bay Area or Seattle, Loftin said. "Building it off site, moving it 200 miles from an area where labor costs are a lot cheaper — there's some benefit there."

Still, for consumers, some of the draw of modular construction today can come as much from the energy efficiency and design aesthetic of models that even allow for a small degree of customization. The emergence of startups, like Connect Homes in Los Angeles, is trying to grow the market and help change the image of factory-built units.

"Prefab has come to mean maybe a little bit less 'trailer home' or 'mobile home,' and it's been sort of a term more associated with the architect-design stuff, which is sort of where we come from," said co-founder Gordon Stott.

Trained as an architect, Stott helped launch the company in 2013. Connect Homes today operates an assembly-line operation in Southern California that can produce 2,000 square feet of housing in six days, he said. Along with single-family properties, Connect Homes produces accessory dwelling units and constructions to help serve homeless populations.

"I think that really what we're able to show, just through pictures alone, is that what we're trying to do is provide people, architect-designed solutions at more affordable price points."
Rural interest shows both success and challenges
Where prefabricated housing has managed to gain market share is in the rural United States, Of the 22 million people living in manufactured homes, approximately half the properties are located in rural communities, Freddie Mac said.

The U.S. Department of Agriculture has provided 4,995 loans to assist rural borrowers with manufactured-home purchases since fiscal year 2018 through two different loan products. As opposed to older units which were financed with personal or chattel loans, many factory-built properties today, including modular constructions, are financed through single-close offerings from Fannie Mae, Freddie Mac and government agencies in a similar manner to an existing-home purchase.

Headquartered in Tampa, Florida, a state still reporting a high level of annual home-price growth when other regions have seen a falloff, Metroplex Mortgage Services has found success using loan programs to provide affordability relief to retired former military through the Department of Veterans Affairs program. Some, who move to Florida to take advantage of benefits available to retired veterans, may have not considered the possibility of purchasing a prefabricated home, nor presented with it as an option from other mortgage businesses.

"They want to stay within a budget and maybe a manufactured home would work better for them," said Metroplex owner Sean Stephens. His company, which operates in three Southern states and Texas, often works with buyers of prefabricated homes using both USDA- and VA-guaranteed loans.

"We're seeing many cases where other lenders are only providing our veterans with options for a single-family home and not manufactured housing."

But lending for manufactured constructions presents a set of challenges that can stymie consumers, the builders selling to them or the mortgage companies issuing the loan, particularly in rural settings. Details regarding the type or size of a unit allowed on a parcel of land, and misunderstandings about local regulations or extra steps needed have tripped up many trying to issue loans in rural areas, according to Stephens, who also serves as Metroplex's chief legal officer.

"With VA, there's water testing. With USDA there's water testing. You may have private-road type items, and distances involving wells and septic tanks, the property line — these types of things come up. And many of these lenders right now, they just don't know what to do," Stephens said in reference to those without rural housing experience who are making costly mistakes.

Growth in lending for modular and other prefabricated homes would provide a welcome push to help the government-sponsored enterprises meet their obligations to increase mortgage financing in underserved markets. Manufactured homes and rural communities were two underserved markets Fannie Mae and Freddie Mac were ordered to address in the Federal Housing Finance Agency's 2016 Duty to Serve rule.

Generating capital to support Duty to Serve is among the goals Next Step is working toward in order to keep the market sustainable.

"Fannie and Freddie have done a really good job under Duty to Serve but I think there's such a delay in builders and developers coming on board to increase the plot and match the new loan products that are out there," Epperson said.

"How long Fannie and Freddie will wait till we can catch up and start giving them volume is really important," she said.
The quest for new markets and ways to grow
Efforts to loosen zoning laws that would allow factory-built homes in more jurisdictions outside the rural U.S. is also another primary focus for affordable housing advocates.

"It's absolutely critical that we do more urban infill, suburban new construction, subdivision development, even replacement of older homes in our cities with affordable stock," Epperson said.

Vacant infill sites, particularly, present opportunities in many communities, thanks to existing infrastructure.

"We love doing infill sites, lots where potentially there was a house previously because oftentimes that means that the utilities are right there in the ground," Stott said. "Land is kind of the great scarce resource, certainly around city areas."

But while such opportunities already exist in some states, including California, which has rules preventing local municipalities from zoning out single-family manufactured housing, regulations and local resistance elsewhere around the country still present barriers to increasing the number of homes.

"What's really a problem is that where there's most opposition to new housing — tends to be infill housing in existing cities, where infrastructure is already present," Loftin said.

And while it has the potential to provide a lower price point in many communities, there still are constraints on the extent of affordability modular and other manufactured homes can bring on large-scale projects, like subdivisions, compared to on-site, or stick-built, construction, according to Loftin.

The primary driver of costs up in some markets is transportation, particularly when located a long distance from the factory. "You have to move that house and get to a site and site it," which can offset the cost reduction of construction.

"When I looked at if manufactured housing made sense in Santa Fe or Albuquerque, it never competed with stick building."

Still, economic development is driving more cities to evaluate the possibilities of manufactured homes to serve their needs, particularly if they see potential disruption ahead in their housing markets requiring a quick boost to inventory, according to Epperson.

"We've had interest from some of the Rust Belt cities for infill, especially when they get a new announcement in jobs," she said.

Any progress in changing local regulations should also likely lead to interest among developers to adding manufactured homes that can boost housing inventory. "Where we get interest tends to be from smaller cities, where developers can make that zoning change," Epperson said.

Modular builders like Connect Homes are already creating strategies to tap into developer interest as it grows.

"We've spent the last couple years taking everything that we've learned from our previous experience building for single-family homeowners in order to create a system that's more scalable, that provides less site work on site," Stott said. Plans also include the creation of models that "can start as small as an ADU but can quickly scale up to kind of a townhome development."

Factory-built construction appears to have support from the federal government, with the Biden administration regularly highlighting the role it can play in his affordable housing goals. Among the president's stated housing aims are new financing mechanisms for manufactured homes as well as the expansion of construction-to-permanent loan options to reduce the housing shortage.